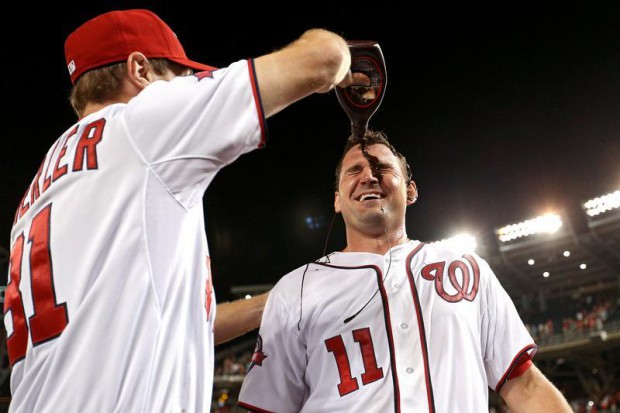 Well, there's not much of a story. The upshot is that, rather than Gatorade baths or pies to the face, the Nats have taken to squirting chocolate syrup on each other after walkoff wins or other big moments. Dan Steinberg and James Wagner of the Post has the story about it. Short version it's mostly Max Scherzer's doing and there is no symbolism involved. It's primary significance is "hey, we can do this, so why not?"
The bigger takeaway: it's a gigantic pain in the butt for the clubhouse staff:
Cleaning chocolate syrup off a baseball uniform has proven to be about a two-hour process: attendants first soak the chosen uniforms in a mixture of Tide detergent powder and hot water. They then scrub the uniforms by hand while using Slide Out — a baseball detergent — and/or a pine tar remover. Finally, they run the uniforms through a normal wash cycle. Then they do the entire process again. And then yet again. Nine steps later, the uniforms are spotless.

"It's probably the hardest one I've had to deal with," Beacham said. "But hey, it's worth it, because we're winning."
Maybe the winning is nice for the clubbies too, but I do hope Scherzer and the gang tip these guys abnormally well for having to deal with this.
Alternative suggestion: given that Scherzer talks about this being, basically, like "dessert" after a satisfying win, let's use different desserts. I, for one, am finding that I really can't eat rich sweets after a certain hour, so I have taken to enjoying a cup of coffee after a meal when I go to a nice restaurant.
In that vein, perhaps the Nationals should begin dousing each other with piping hot coffee after a win? Preferably when the best players who are most responsible for the team's success? Just a suggestion from a totally unbiased observer!