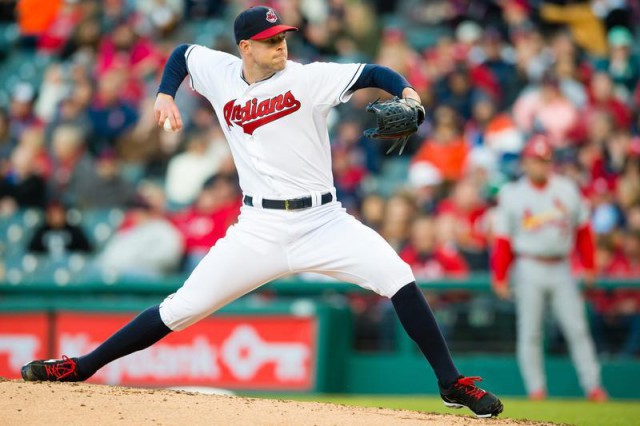 *The first recap of the morning was written, collectively, by everyone's mid-50s-year-old drunk uncle who peaked during Reagan's first term and has hated everything since*
Indians 2, Cardinals 0: Eighteen strikeouts and one hit allowed in eight innings? Bah! Call me back when he can go nine. Kids these days are soft! Coddled by their parents since preschool, begging out of their responsibilities the moment things start to get tough. Jack Morris had 175 complete games in his career! You can bet, knowing that his team had the lead in this one, that he'd pitch to contact late and save the bullpen!
[mlbvideo id="114090483″ width="600″ height="336″ /]
Cubs 2, Mets 1: I was on a radio show yesterday that billed this as "Matt Harvey vs. Kris Bryant." Thing about baseball, however, is that you can't do that. You can't tease any one baseball game as star vs. star because even if he's fantastic like Matt Harvey was (7 IP, 3 H, 0 ER, 9K), the first star may get a no-decision and not figure in to the game's ultimate outcome. Likewise, the second star may go 1-for-4 with two strikeouts. Maybe that kind of tease gets some people to watch who wouldn't, but if you promise greatness from superstars in baseball you're going to, statistically speaking, end up burning your audience more often than not. At least the casual fans who were only attracted by you hyping the stars. And if you do burn fans enough, maybe they don't stick around until the ninth inning and see a walkoff walk to Chris Coghlan. You can't hype things like walkoff walks in advance because you never know what you're gonna get. You can, however, hype the fact that you never know what you're gonna get.
Angels 2, Rockies 1: Mike Trout put on a defensive clinic in extra innings. Two plays, each of which would've caused the Angels to lose the game if he did not make them. Wait, make that three: the home-run theft, the running catch with the man on third and then, after that catch, the throw home to nail the runner tagging up. And the dude didn't even make it look hard:
[mlbvideo id="114930983″ width="600″ height="336″ /]
Best all-around player in the game and it's not particularly close.
Nationals 9, Diamondbacks 6: Michael Taylor hit a grand slam in the ninth inning with the Nats down one. No biggie.
[mlbvideo id="113737783″ width="600″ height="336″ /]
Best part: he was only in the game because Bryce Harper had been ejected in the seventh inning for arguing balls and strikes.
Reds 5, Braves 1: Rookie Raisel Iglesias baffled the Bravos, allowing one run on two hits in eight innings. Not to take anything away from him — he was great and the Braves sorta stink — but this was such a getaway day game. Lasted two hours and six minutes and after three games in Ohio where they dealt with rain, cold and then cold again, the Braves have an offday in Miami today. Mentally speaking they were on the dang beach and eating at Joe's Stone Crab by the third inning.
Red Sox 2, Athletics 0: Wade Miley pitched shutout ball into the seventh. He wasn't totally cruising — he allowed five hits and walked four — but he worked out of every jam he faced. The Sox needed that.
Orioles 6, Blue Jays 1: The O's scored five in the second thanks in part to three doubles. Miguel Gonzalez allowed only three hits while pitching into the seventh. The Jays' only run came on a passed ball.
Phillies 3, Pirates 2: Jeff Francoeur nailed a runner at the plate for the final out of the game. An out which made Jonathan Papelbon the all-time Phillies saves leader:
[mlbvideo id="114168883″ width="600″ height="336″ /]
Am I the only one who wondered if, maybe, since the ball was foul, Francoeur shoulda let it drop so that there was no chance the tying run could tag up and come home? Maybe that's too harsh. You should take the outs that are given to you whenever you can. Instincts are hard to overcome and it's possible that Francoeur didn't know if he was in fair or foul territory by the time he got to the ball. Nice throw either way and obviously the good result. That cannon he carries is the biggest reason he still has a job in the majors. Good to see him get to use it.
Twins 6, Tigers 2: Ricky Nolasco wasn't efficient or sharp in an absolute sense but he certainly was compared to the way he's been pitching lately. Torii Hunter homered and Joe Mauer hit a three-run triple.
Rays 3, Yankees 2: Asdrubal Cabrera drove in a run on a double that served as his 1,000th career hit. Pretty sweet. The Rays have allowed the fewest runs per game in the American League this year.
Marlins 5, Dodgers 4: Dee Gordon had four hits, including two doubles, against the team that dealt him away this past offseason and Giancarlo Stanton had a two-run single. I assume even his RBI singles go 500 feet somehow. The Marlins avoid the sweep and snap the Dodgers' five-game winning streak.
Rangers 5, Royals 2: Prince Fielder and Shin-Soo Choo each homered and the Rangers won. That's the sort of thing a lot of people expected to happen last year and it didn't. See the above Mets-Cubs recap about the unpredictability of stars power.
White Sox 4, Brewers 2: Jose Quintana had a 3-0 lead before he tossed his first pitch and then proceeded to strike out ten Brewers in seven innings. F***ing Quintana. That creep can roll, man.
Astros 4, Giants 3: George Springer had been out a week with concussion symptoms but looked no worse for the cobwebs and rust, hitting the go-ahead homer in the eighth. Buster Posey had three hits, including a two-run homer in a winning effort in a losing cause.
Padres 4, Mariners 2: James Shields allowed one run in six innings and moved his record to 5-0. Weird thing: perfect record but has given up 12 homers this year which leads all of baseball. I guess if that's the only thing you do wrong and if you get some run support you'll be alright. Will Middlebrooks homered.