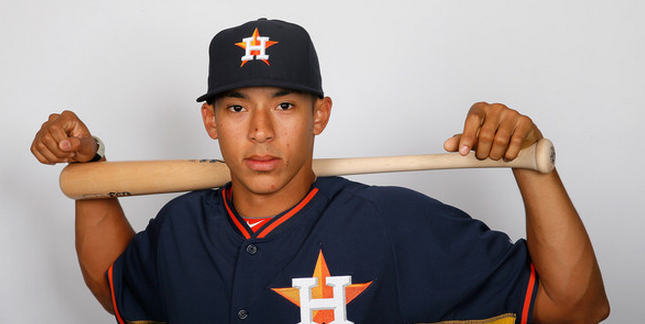 An important part of the Astros' future is getting closer to Houston:
#Astros officially promote SS Carlos Correa to the Triple A @FresnoGrizzlies. He will join the club tomorrow in Albuquerque.

— #VoteAstros (@astros) May 11, 2015
Correa — whose 2014 season was cut short due to a fractured fibula — has shown that he has absolutely nothing to prove in Double-A, where he hit .385/.459/.726 with 7 homers, 32 RBI and 15 stolen bases in 29 games. As a shortstop, mind you. Who is only 20. This after dominating low-A ball in 2013 and high-A ball before his broken leg last year. I guess showing up in the Best Shape of His Life this year paid off.
Most people will tell you that the big hurdle for a young player is making it in Double-A. Correa more than made it, he owned it. If he does the same thing at Fresno, he could be playing for the big club this year.