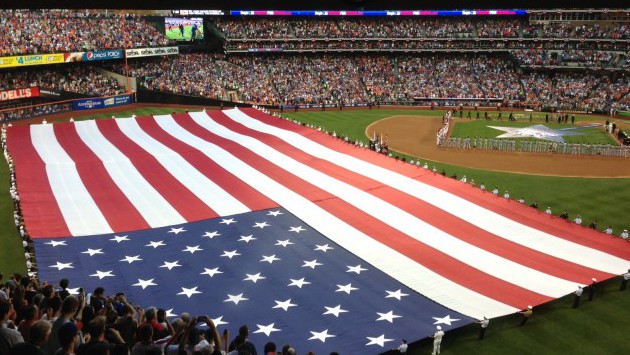 I've written about conspicuous displays of patriotism at the ballpark many times in this space. Last fall I dealt with it at length while in Kansas City for the World Series, noting how much the tributes to the troops, the flag, veterans and everything else has become tied up in corporate sponsorship. About how, however well-intentioned MLB's military and veteran-related initiatives are, at some point in the past 15 years they have become rote at best, overblown and exploited by corporate interests at worst and maybe it's time to dial it back a bit.
Against that backdrop comes a story at NJ.com about how the military actually pays for a lot of this stuff at Jets games:
When the Jets paused to honor soldiers of the New Jersey Army National Guard at home games during the past four years, it was more than a heartfelt salute to the military — it was also worth a good stack of taxpayer money, records show.

The Department of Defense and the Jersey Guard paid the Jets a total of $377,000 from 2011 to 2014 for the salutes and other advertising, according to federal contracts. Overall, the Defense Department has paid 14 NFL teams $5.4 million during that time, of which $5.3 million was paid by the National Guard to 11 teams under similar contracts . . . The agreement includes the Hometown Hero segment, in which the Jets feature a soldier or two on the big screen, announce their names and ask the crowd to thank them for their service. The soldiers and three friends also get seats in the Coaches Club for the game.
A politician quoted in the article makes a decent point: while there is no fraud here or anything and while this information was publicly available pursuant to FOIA requests, fans are clearly led to believe that these things are public services by the team or, at the very least, spontaneous tributes. Which they're clearly not. They're recruiting advertisements. A spokesman for the National Guard expressly admits that in the article.
Not that all or even most of the patriotic displays we see at sporting events fall into this category. I'm assuming most don't. And I will not criticize the legitimate charitable efforts sports leagues and teams make with respect to veterans and the like. I'm glad they do it.
But this is just another datapoint suggesting that patriotism and big business have become increasingly intertwined. And because of that, perhaps we should not just blindly accept so much of it at sporting events.