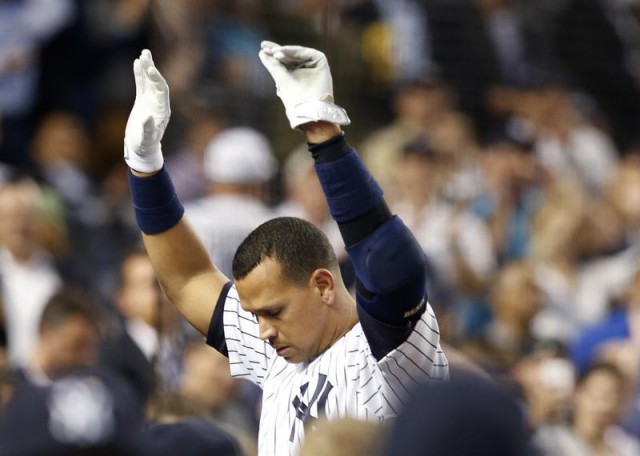 According to numerous baseball sources, the hip surgery Rodriguez is now recovering from will likely derail his playing career, leaving him in such a diminished role that he may consider a settlement or an outright retirement. He still has five years and $114 million left on his contract.

"I don't know why he would want to go through the pain of rehabbing and trying to play up to the caliber of player he was, and come back to a game where nobody wants him," said a baseball official.

"If he did that, he'd be a part-time player and presumably unable to achieve any of the incentive clauses in the contract or even the milestones."
Twins 6, Athletics 5: The game story says "An impromptu dance party broke out in the Minnesota Twins clubhouse after their latest victory." Given that this is the first time they've been three games over .500 in five years, I'm going to assume they were dancing to "California Gurls" or "Tik Tok" or something.
Rangers 5, Rays 4: Four in a row for Texas. The Rays could've been out of the second inning with the score tied at 0-0, but with two outs, Chris Archer struck out Rougned Odor, the pitch went wild and Odor made it to first base. Right after that Archer walked in two runs in a row and then gave up a two-run single. Great Moments in Keeping One's Composure, I guess.
Diamondbacks 11, Padres 0: That there is a good, old-fashioned butt-kicking. Tuffy Gosewich hit three doubles and drove in four. It's almost like his team signing a catcher earlier in the day lit a fire under him. By the way, between the composure thing with Chris Archer and the motivation thing with Gosewich, I'm deep in the narrative woods here. I realize that. But as the A-Rod excerpt from above has taught me, it's way easier to just make up your own reality. Hell, you can win a Spink Award if you do it.
Dodgers 14, Brewers 4: The Joc Pederson unit must be malfunctioning: he didn't hit any home runs and actually singled. The Yasmani Grandal unit is working just fine, though: 4-for-4, two homers and eight RBI. At the moment: Grandal: .301/.414/.534 with four homers; Matt Kemp: .292/.328/.417 with one homer. Give me a few minutes to come up with some story about why that is, too. I bet I can.
Cardinals 5, Cubs 1: John Lackey was dominant, striking out ten and allowing one run in seven and two-thirds. He also drove in a run [all together now] helping his own cause. The long start saving the bullpen some work was key here, as the Cards' pen has been worked a lot lately. Which is the real issue with the Adam Wainwright injury. Attrition. One less starter who is likely to pitch deep into games, wearing down the staff over time. If Lackey can be the guy who pitches eight innings on the regs, it'll go a long way toward making up for the loss of the team's ace.
Tigers 4, White Sox 1: Kyle Lobstein scattered five hits, pitching seven and two-thirds himself. In Detroit it's less about saving the bullpen and more about doing whatever is humanly possible to avoid having to use it. So, good show, Kyle.
Royals 7, Indians 4: Cory Kluber is 0-5 now. I know won-loss records of pitchers ain't worth a diddly durn, but man. Eric Hosmer hit a homer drove in three. He's hitting .324/.403/.565 on the year. It feels like he's been around forever and that he's never fulfilled all that potential he had back when he was a prospect. But he's still just 25. If he's breaking out now, it's like the Royals added an All-Star bat or something.
Pirates 7, Reds 2: Seeing Andrew McCutchen go 3-for-4 after his slow start has to be encouraging. Seeing their five-game losing streak end has to be even more encouraging. Pittsburgh notched 11 hits and had 18 baserunners.
Astros 3, Angels 2: After two straight nights in which the Angels walked off the opposition, they were on the bad end of some ninth inning magic. Lost in the Wednesday night walkoff was the fact that Huston Street blew a lead. He did it again here.
Marlins 7, Giants 2:Dan Haren drove in two runs, scored two runs and pitched shutout ball into the seventh. Tim Hudson gave up six runs on 15 — 15! — hits in six and two-thirds. You don't see starting pitchers stay in long enough to give up 15 hits very often.