Justin Verlander is hurt and isn't pitching. But he hasn't crawled into a hole and died. His arm is hurt, sure, but he's still capable of, you know, going out to eat and spending time with his girlfriend, all of which are things literally 100% of ballplayers and almost every other single person in America does, more or less, when they have a minor injury.
But when you're a baseball player people expect you to wear a hairshirt when you're injured. To look dour and never be out in the world. Clay Buchholz got a lot of crap thrown at him a few years back for showing up at a charitable event and not locking himself in his basement following an illness. Verlander, too, has been catching flak for actually living his life.
On Instagram the other day, Verlander had a message for those folks: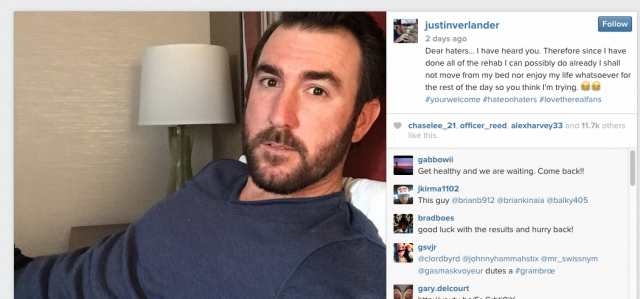 He expanded on all of that to Lynn Henning of the Detroit News, showing that he's taking it in a bit more stride than that post suggests he is. But really, you can't blame him for being fed up with that kind of thing. Ballplayers are already in a bubble. That they're expected to act in certain, clearly artificial was for the sole purpose of pleasing some irrationally demanding fans is about eight bridges too far.