Angels 5, Mariners 4: Have yourself a major league debut, Carlos Perez:
[mlbvideo id="103331383″ width="600″ height="336″ /]
The 24-year-old catcher singled in his big league debut and then led off the ninth with this shot to win it for the Angels. He's the first player to hit a walkoff homer in his debut since Miguel Cabrera did it in 2003. Not bad company.
Marlins 2, Nationals 1: Mat Latos and four relievers combined on a three-hitter. Stephen Strasburg left the game early for Washington with a pinch in his shoulder blades which his manager said has been bugging him lately. Matt Williams said after the game that "we'll have to have the chiropractor look at him." After that I suppose they'll give him a Balsam Specific, some Smeckler's Powder and, while they're burning money, a Curative Galvanic Belt too. All of which is way better than what they did back when Williams himself played and guys were bled by leeches to be have him rid of all of their bad humours.
Red Sox 2, Rays 0: The Red Sox had only five hits, but two of them were Mookie Betts homers. Given that Rick Porcello tossed eight shutout innings, that was plenty. Check out the 1975 throwbacks the Sox wore: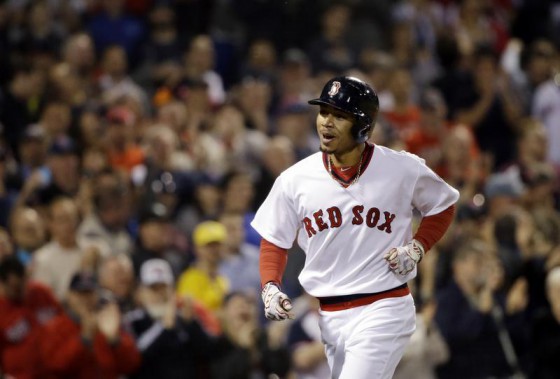 They don't look that great on Betts because he is neither (a) fat; nor (b) wearing a pullover that is a size too small, which was the style in the mid-70s. Plus, I seriously doubt he has big, blown-dry hair under that cap and almost certainly doesn't smoke. Meanwhile, some guy whose heyday was 1975 is complaining about how today's athletes can't compare to the guys 40 years ago.
Braves 9, Phillies 0: Shelby Miller needed only 99 pitches to shut out the Phillies. Like, a real honest-to-goodness nine-inning shutout like the pitchers used to throw 40 years ago back when the athletes were way better than today. Miller, by the way, is 4-1 with a 1.66 and a 31/14 K/BB ratio in 38 innings. I still hated to see Jason Heyward go, but Miller has been a good pickup and by far the most reliable Braves pitcher this year.
Dodgers 8, Brewers 2: Zack Greinke allowed only an unearned run while pitching into the eighth, striking out seven. He also hit a double and flipped is bat like he was Yasiel Puig or something:
[mlbvideo id="103217883″ width="600″ height="336″ /]
All of your "but the NL has better strategy!" arguments will never sway me, but pitchers flipping their bats and strutting around like they own the place after they get hits might.
Reds 7, Pirates 1: Marlon Byrd homered and drove in four. His RBI double put the Reds up by six runs, which led to some serious profundity from manager Bryan Price, who said "it's a lot easier to manage a game with a six-run lead than a one-run lead or being down a run." Really makes you think, man.
Yankees 6, Blue Jays 3: Eight shutout innings for Michael Pineda before the bullpen, uncharacteristically, allowed some late damage. Mark Teixeira hit a two run homer and A-Rod doubled in a run. Which, again, is the Yankees' recipe for success this year: Pineda stepping up and the old guys not looking so old.
Mets 3, Orioles 2: Bartolo Colon became the first pitcher to beat the same opponent while playing for seven different teams. He didn't get the chance to do it in his half season in Montreal, but you figure he would've beaten them there too. And while, yes, Greinke's double and bat flip — plus Doug Fister getting a pinch-hit single in the Nats game — may bolster the NL rules argument, this still happened last night: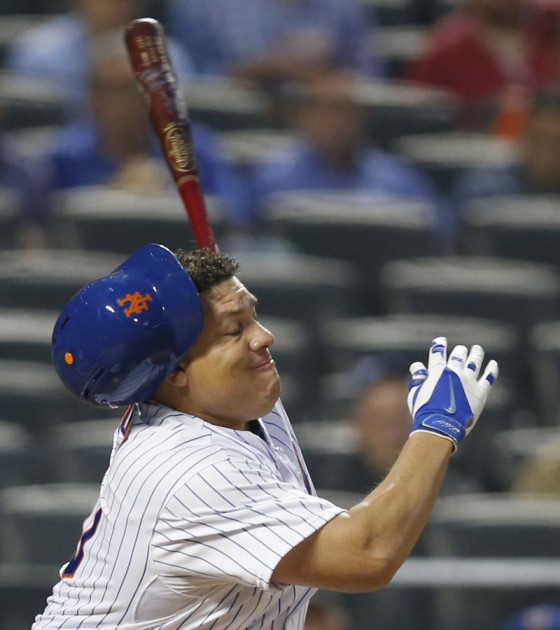 White Sox 5, Tigers 2: Jeff Samardzija allowed only two runs in seven innings, bouncing back from that bad start in an empty Camden Yards. The Chisox' throwbacks looked better than the Red Sox' by the way, because these throwbacks are always amazing: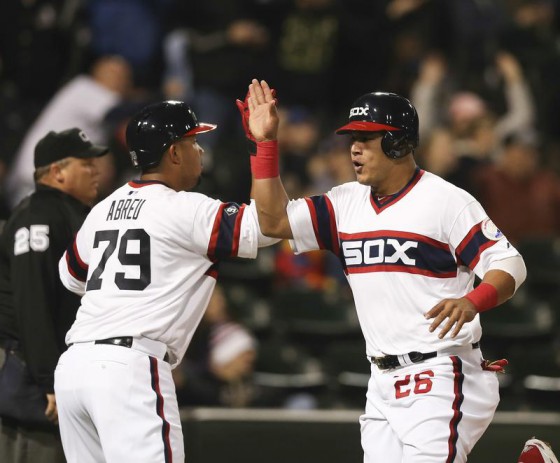 Royals 5, Indians 3: More like Eric Homer, amirite? God, I'm sorry I even said that. That's bad. But you know damn well someone has called him that at some point. Anyway, Hosmer had a three-run shot. Jason Vargas was touched by a Michael Brantley homer but otherwise cruised for six innings.
Athletics 2, Twins 1: Another strong starting pitching performance on a night with many, this one from Jesse Chavez who allowed only an unearned run in seven and a third. Billys Butler and Burns provided offense, with the former notching two hits and an RBI and the latter adding two hits and a stolen base.
Rangers 7, Astros 1: Probably the least-apt "against his old mates" game ever, as the Astros with Wandy Rodriguez back in 2012 may have been a team of Martians or Daleks or mole people or something compared to the roster they have now. Hell, you can't even say he pitched against his old laundry, as the uniforms are all different too. Either way, Rodriguez allowed only one run over eight innings against his old club. At least assuming they didn't reorganize and become some weird LLC or holding company or something since he left.
Cardinals 7, Cubs 4: Matt Carpenter hit a three-run homer and drove in four overall as the Cards win their eighth in a row. Mitch Harris, a 29-year-old rookie and former Navy lieutenant got his first career win. The post-game pie in the face or beer shower doesn't really compare to shellback initiations, I assume.
Giants 6, Padres 0: Ryan Vogelsong tossed seven innings of three-hit ball and the Giants won their fifth in a row. Third straight by shutout. That's 20-straight scoreless innings for the Padres, who actually have a bit of lumber at their disposal.
Diamondbacks vs. Rockies: POSTPONED: Rain, feel it on my finger tips
Hear it on my window pane
Your love's coming down like
Rain, wash away my sorrow
Take away my pain
Your love's coming down like rain
Yeah, that's Madonna. Wanna fight about it? Madonna is awesome.