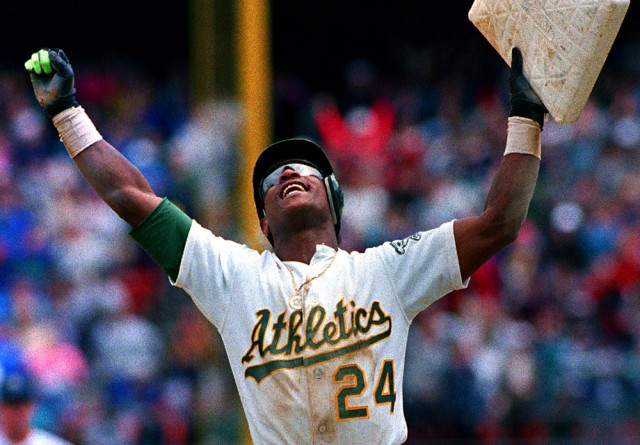 On May 1, 1991 — 24-years-ago today — Rickey Henderson passed Lou Brock for the all-time stolen base record.
Records are broken all the time, but any stolen base record is a little different in practice, at that particular moment. The stolen base requires the element of surprise, you see, so when someone is at a milestone moment in stolen bases you know damn well he's got a bit of an extra incentive to go. You know it's coming and he knows you know it's coming, yet you play that game anyway.
Such was the case with Rickey Henderson on that day in 1991, as this video of the event shows. Yet, despite the fact that everyone knew Rickey was going, he still got a huge jump and it wasn't even close:
[mlbvideo id="3235127″ width="600″ height="336″ /]
Fun fact about Rickey and stolen bases: he stole 467 bases AFTER breaking Lou Brock's record. If you just took his post-record stolen bases, he'd rank 46th on the all-time list, ahead of guys like Bobby Bonds, Ichiro, Jose Reyes, Carl Crawford and Roberto Alomar.
Of course Rickey wasn't just stolen bases. He got on base and scored runs better than almost everyone in history. He hit for power. He played great defense when he was younger. Indeed, no player gets overlooked more than Rickey Henderson when it comes to the Greatest Living Ballplayer conversation. I still think it's Willie Mays right now with Hank Aaron likely second. Your mileage may vary on Bonds depending on what you think of him, obviously. But if Rickey Henderson isn't on your short list, I don't wanna know you.