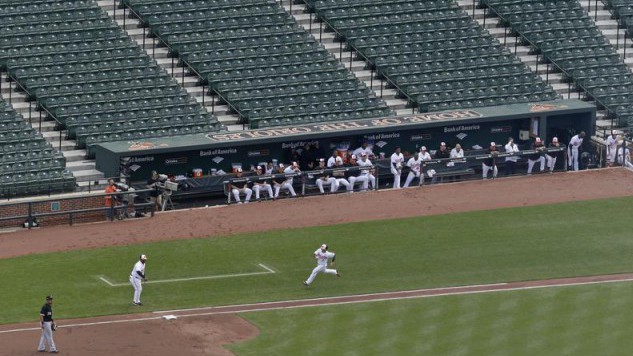 Orioles 8, White Sox 2: I talked about this as I was watching it yesterday, but the key takeaways for me were how (a) an empty ballpark actually makes Hawk Harrelson's commentary . . . sort of OK; and (b) the blistering pace. As a fan it was easy to get used to watching this one pretty quickly because, really, a game on TV is in some ways like watching a game filmed at a studio. It's all pitcher-batter-play-in-the-filed focused in ways that watching a ballgame at the park isn't. The lack of crowd noise made a big difference initially, but it was easy to ignore after an inning or two. As for the pace, commenter 2131andbeyond hit the nail on the head, I think:
As someone who has attended ~400 games at Oriole Park over the last decade, what I noticed during today's action was simply the heavy focus on the game itself. Lack of distraction, so to say. There are so many interactions throughout the game involving fans, from tossing balls and even checking out foul balls, that add up over time. Also, no sound effects or music between pitches and at bats, which generally guys will let play out before pitches are thrown. In this case, after a home run, the celebration generally would have gone on 20-30 seconds longer, but didn't occur. Those small bits of entertainment value, while also keeping the players fully focused on the game and nothing else, easily adds up to a good chunk of time over nine innings.
There was a lot of getaway day first-pitch swinging too, but I agree that the players just got on with it a lot more than usual. I'm sure the atmosphere, or lack thereof, had a lot to do with it.
Angels 6, Athletics 3: Mike Trout homered and hit a bases-loaded double. Albert Pujols left the game with a leg injury. It doesn't seem terribly serious, but the Angels are going to err on the side of caution by exiling him to another state, removing all evidence of his existence from the ballpark, initiating legal proceedings in an effort to claw back tens of millions of dollars for his betrayal and offering pissy little statements about how he has yet to apologize.
Nationals 13, Braves 4: I guess Tuesday night's game opened the floodgates for the Nats' offense. Here they rattled out 15 hits, including a three-run single for Jordan Zimmermann. The Braves have lost seven of nine. We're seeing a lot fewer stories about their grit and play-the-game-the-right-way attitude these days, huh? I guess that stuff doesn't matter too much when you, you know, suck.
Marlins 7, Mets 3: Ichiro hit a three-run homer, giving the Marlins some insurance runs and giving hope to all of us old S.O.B.s over 40. Giancarlo Stanton also homered, reminding us that this is a young man's world. Dee Gordon added two more hits, raising his average to a four-speed dual-quad posi-traction .409. The old S.O.Bs out there will get that reference.
Brewers 8, Reds 3: Ryan Braun hit a grand slam and a solo shot. There were seven homers total in this game, accounting for 10 of the 11 total runs scored. Reds starter Michael Lorenzen — no relation to Moose; unsure about Jared — gave up three of them in his big league debut.
Rays 3, Yankees 2: A-Rod had a bad game — 0-for-6 with four whiffs — and has been hitting poorly, but I question whether he is really worth the first 11 paragraphs of a 20-paragraph AP game story. Especially in a game where one of the teams' bullpens combined for seven scoreless innings, following up a starter in Drew Smyly who struck out ten in the six. The Yankees' pen allowed one run in seven and a third, but that one run — a James Loney RBI single in the 13th — was the difference.
Tigers 10, Twins 7: Two homers for Miguel Cabrera brings his line to .370/.453/.630 with five bombs and 17 RBI. Yawn. Neither of his homers was as unconventional as James McCann's, whose first career homer was an inside-the-park number. McCann is a catcher of course. Check it out (and try to ignore the fact that Jordan Schafer went to his right several steps before going back on the ball):
[mlbvideo id="94257083″ width="600″ height="336″ /]
Astros 7, Padres 2: Six straight wins for Houston, including this three-game sweep in which they outscored the Padres 30-9. Dallas Keuchel allowed only three hits in eight innings and raised his record to 3-0, but saw his ERA rise from 0.62 to 0.73. I guess that just shows that he's been pitching to the score. The Padres have dropped seven of eight.
Red Sox 4, Blue Jays 1: Rick Porcello turned in a performance that the Sox really needed from their staff, allowing one run on two hits over seven innings. Hanley Ramirez homered once again. He has 10 in the month of April.
Indians 7, Royals 5: Jason Kipnis homered and drove in four. Scary moment in the fifth when Danny Salazar beaned Alcides Escobar. Escobar seems OK and it did not seem intentional, so there was no retaliation from the Bad Boys of Baseball. That's saying something since Yordano Ventura was on the mound. Of course, since he has a suspension pending, him hitting an Indians batter here would be like a guy knocking over a liquor store while out on bail and awaiting sentencing for grand theft auto.
Cardinals 5, Phillies 2: Peter Bourjos showed off his legs. He hit a game-tying RBI triple, scored on a fielder's choice that a lot of dudes wouldn't have scored on and robbed Chase Utley of extra bases with a nice catch. He got caught stealing once, though, so I suppose his legs have their limits. Ryan Howard homered, but he also grounded out into the shift three times. After the game:
"No, I don't like it at all," Howard said. "That's four hits. I'm hitting the ball hard, it's just that guys are playing shifts."
Well, sorry.
Mariners 5, Rangers 2: Logan Morrison was 4-for-5 and doubled in a couple of runs. Felix Hernandez improved his record to 4-0. Used to be he'd allow two runs while pitching into the seventh and come away with a no decision or worse. Four errors for the Rangers.
Pirates 8, Cubs 1: Andrew McCutchen went 2-for-5 with a two-run triple and notched his 1,000th career hit. Which seems kind of crazy, but that's how time works for you when you're an old S.O.B. You think things like "wait, McCutchen is only playing in his fourth or fifth season, right?" Then you look up and realize you've forgotten years. Sometimes decades. Because the 1990s were just a few — wait, holy crap! Gerrit Cole struck out eight and allowed only an unearned run in six innings.
Diamondbacks 9, Rockies 1: When Josh Collmenter is on, he's on. And here he was on, tossing eight innings, striking out six, not walking anyone and allowing an unearned run. Jordan Pacheco hit a three-run homer and Yasmany Tomas drove in three.
Dodgers 7, Giants 3: Homers from Joc Pederson, Adrian Gonzalez, Andre Ethier and Jimmy Rollins. The game story talks about how it's hard to do that at night in L.A. because of the marine layer. My San Diego-living brother talks about the marine layer all the time. Kind of bitching about it because he's been in California for 20 years now and gets all complainy when it isn't 75 degrees or more with sun beating down on him directly. Personally, I think the term "marine layer" is a beautiful term, just as far as language goes, and like to say it a lot. Marine layer, marine layer, marine layer. Besides, to have it, it means you have an ocean next you, so stop whining, Curtis.
Wait, sorry. That got a bit personal. I'll just text him next time.