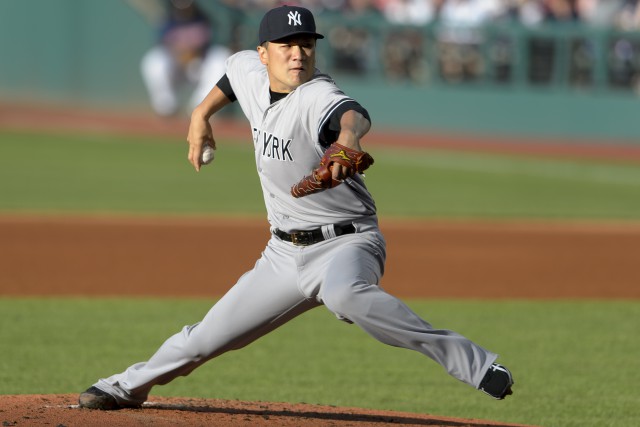 Masahiro Tanaka was put on the disabled list due to wrist tendonitis and soreness in his forearm. An MRI yesterday showed that there was no additional tear to his UCL over what came before. What does this all mean? For that, one could consult orthopedists and other doctors. Trained experts who have went to school for years and have mastered what is perhaps the most critical and difficult discipline among all of the professions.
Or maybe he and the Yankees should just have a couple of reporters and some ballplayers weigh in? Like John Harper:
This is why so many teams and pitchers opt for getting Tommy John surgery rather than trying to pitch once they have been diagnosed with a ligament tear. This is why the likes of Martinez and Curt Schilling said they thought Tanaka should have had the surgery.

Nevertheless, Cashman has said all along that the ballclub's decision was guided by the advice of three orthopedists who recommended that Tanaka try to rehab and pitch with the tear.
That "nevertheless" is the most rich thing I've ever heard. Given what Haper has written on this subject before, that's the equivalent of him saying "welp, you were dumb to listen to medical professionals before, so if you want to do it again, I can't help you."
From the moment Tanaka suffered a small tear in his elbow ligament last season, the Yankees and Tanaka have taken the conservative route, the route recommended by team doctors, the route Tanaka wanted to take.

The no-surgery route.

It's time to change game plans. This is not working. He needs to have Tommy John surgery to have any chance of getting back to being the kind of pitcher the Yankees thought they were getting when they shelled out $175 million.
Will Masahiro Tanaka need Tommy John surgery? Maybe! I have no idea. It's a distinct possibility! But his doctors said he didn't need it before and, as yet, they have yet to say he needs it now. That appears to be good enough for the New York Yankees and Masahiro Tanaka, who are wisely consulting with medical professionals and not the a couple of tabloid columnists who, apparently, have no idea that they aren't actually qualified to make such assessments.
Of course, if and when Tanaka does go under the knife, I'm sure we'll get a nice round of "told ya so's" from these guys. "Told ya so's" that are the medical equivalent of you or I telling the widow at the funeral that we knew her husband was gonna die one day. Eventually.