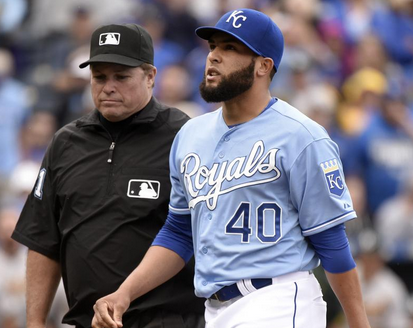 The price for the ugliness that took place between the A's and Royals over the weekend is now going to paid. From the principal's office:
Kansas City Royals pitchers Kelvin Herrera and Yordano Ventura have received discipline for their roles in on-field incidents during the Club's weekend series against the Oakland Athletics at Kauffman Stadium. Joe Garagiola, Jr., Senior Vice President of Standards & On-Field Operations for Major League Baseball, made the announcement.

Herrera has received a five-game suspension and an undisclosed fine for intentionally throwing a pitch in the head area of Brett Lawrie of the A's in the top of the eighth inning of the Sunday, April 19th game, with warnings in place.

Ventura has received an undisclosed fine for intentionally throwing a pitch at Lawrie in the top of the fourth inning of the Saturday, April 18th game.
Nothing for Brett Lawrie for his dirty slide into Alcides Escobar, but it's often the case that the spark is not noticed while the conflagration is.