My parents remember where they were and what they were doing when Kennedy was shot. I remember the same thing about the Space Shuttle Challenger blowing up. My kids, in turn, will remember this day: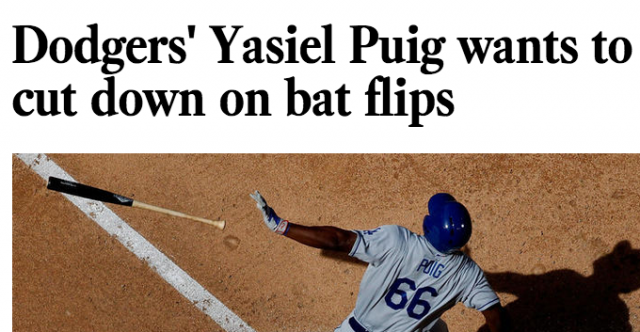 That's from Dylan Hernandez of the Los Angeles Times, who has the story here. The upshot: while Puig means no disrespect when he flips his bat — it's all emotion — he is concerned what other people may think of him. Here's his quote, which I think you'll agree, is the saddest quote from a baseball player since Lou Gehrig:
Though acknowledging that some fans are entertained by his theatrics, Puig said in Spanish, "I want to show American baseball that I'm not disrespecting the game."
The running joke around these parts is about how sourpusses who wouldn't know what fun was if it fell out of the sky, landed on their face and started to wiggle say things like "RESPECT THE GAME!" to ballplayers who dare to enjoy themselves. I mean, it's so cliche now that they're finding different ways to say it, knowing we're on to their game. But I guess they won.
And that's what sort of bugs me here. Not that Puig will try not to flip his bat. I mean, hell, he can do what he wants. It's not like there aren't other bat-flippers. Jose Bautista flipped his on a WALK yesterday for cryin' out loud. No, it's that we now have the groundwork for a tired, crappy old narrative, which you just know the sourpusses will gobble up. Travel with me into the future, my friends:
October 28, 2015
Bill Plaschke, Los Angeles Times

LOS ANGELES — Some will say it took a change in the front office to get the Dodgers over the hump. To transform them from a group of Mr. April-September All-Stars to what they are on this night: World Series Champions.

But what it clearly took was not Andrew Freiedman and Farhan Zaidi's spreadsheets and all of the changes they made.

It took a change in the attitude of the Dodgers' would-be MVP. Yasiel Puig.

Back in April, with the Dodgers mired just above .500, Puig told the Los Angeles Times that he wanted "to show American baseball that [he was] not disrespecting the game."

It was a sentiment long overdue.

Then, something amazing happened. The Dodgers began to win. And win a lot. And while, yes, the basement spreadsheet crew may claim that the Dodgers were clearly the most talented team in the National League West to begin with and while many favored them to win the division anyway, they never did explain that sluggish start in April.

All I know are what my eyes see, and my eyes saw Yasiel Puig stop flipping bats and the Dodgers running away with the NL West. Coincidence? I think not.
And it'd just go on and on. You know it would.
Oh well. Baseball is a lot of things. But one of the things it is most of all is an environment which rewards conformity. If you stick out or are perceived to be showing people up — with said perception being set on the most unreasonable of hair-triggers, it seems — you catch guff. Once you adjust for talent, aw shucks company men go farther than the exuberant or flamboyant types. The clubs and the culture of the game, in their own subtle ways, punish the ones who feel like it's actually OK to enjoy fun things. The fans, taking the cue of their Little League coaches, ex-jock commentators and reporters who parrot that company line, have likewise bought into the notion that different is bad. We get a few years of flamboyance from a star now and again, but then that ends. They either grow up a bit — it'd be weird to see a 30 year-old guy going crazy all the time — or they stop being good enough to pull that off.
Or, in the case of Yasiel Puig, they just learn that it's easier to go along than to simply be themselves. And that's pretty sad.