Prior to tonight, new Cubs left-hander Jon Lester hadn't made a pickoff throw to first base since April 30, 2013. That's right, nearly two years. If you watch the video linked here, you'll know why.
Here's a look at the aftermath of pickoff throw in the second inning tonight: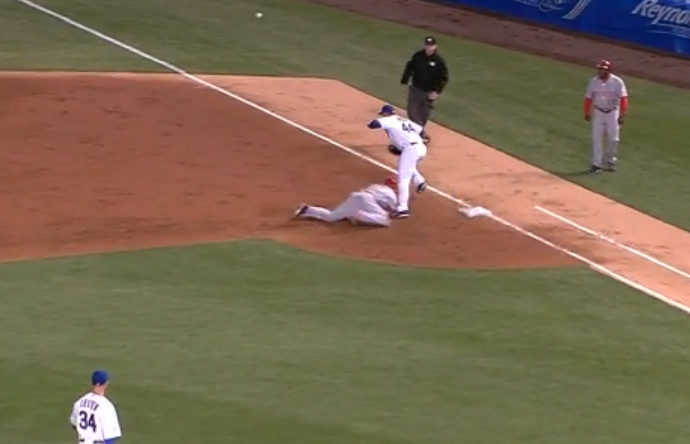 Anthony Rizzo is lucky he didn't get seriously hurt here. He ran into the runner's path back to first base and could have injured his knee. Fortunately, Jorge Soler bailed out Lester with a fantastic throw to nail Zack Cozart at third base. Lester and the Cubs keep trying to downplay any talks of him having the "yips" with pickoff throws, but teams are going to keep running on him until he finds a way to combat it.
By the way, Lester gave up six runs on 10 hits over six innings against the Reds tonight. His ERA sits at 7.84 through two starts with Chicago.
Correction: This was Lester's second pickoff throw of the game. The initial version of this post indicated that this was his first. My apologies for the error.