Indians 5, Astros 1: Trevor Bauer needs to get more economical with his pitches out there and walk fewer dudes, but I think the Indians will still take six no-hit innings with 11 strikeouts. The sole hit by the Astros was a ninth inning homer by Jed Lowrie off of Nick Hagadone-killed-our-chances-at-seeing-a-no-hitter.
Mets 6, Nationals 3: Matt Harvey vs. Stephen Strasburg was all Matt Harvey. Six innings four hits, zero runs and nine strikeouts. Three of them were strikeouts of Bryce Harper, all swinging, all on high fastballs. Which, you know, maybe he should start to lay off, bro.
Tigers 7, Twins 1: Hey, the Twins scored a run. It wasn't earned, but don't bother them with details. Before that run scored in the seventh, the Tigers established a non-Deadball era record for a shutout streak to begin the season: 24 innings. There was a three and a half hour rain delay but after it was over Brad Ausmus declared it "great weather for baseball." Which is why you wait three and a half hours to play sometimes, I guess.
Royals 4, White Sox 1: Yet another opening series sweep. This one was full of all kinds of insane defense. We posted about Adam Eaton's great catch yesterday. Lorenzo Cain ranged around quite a bit out there in center as well:
[mlbvideo id="66297683″ width="600″ height="336″ /]
In any event, Edinson Volquez was thankful for the leather behind him as he tossed eight innings allowing only one run.
Rangers 10, Athletics 1: Four homers from the Rangers including a three-run shot from Shin-Soo Choo and a two-run shot from Mitch Moreland. Adrian Beltre and Rougned Odor added solo home runs. Beltre's came in the same at bat where he swung so hard and so early at a breaking ball that he fell down to his knees and nearly did a 360 into the dirt. Next curve ball he saw he went down to his knees and jacked it over the fence in left-center. Watch:
[mlbvideo id="66539883″ width="600″ height="336″ /]
In other news, Beltre is pretty amazing to watch and stories like these will be told by fans who watched him each January when the writers, inexplicably, fail to give him any Hall of Fame love.
Blue Jays 6, Yankees 3: Daniel Norris, who as everyone knows by now, lives in a van down by the river, can also pitch a little. Not a shutdown effort, but three runs while pitching into the sixth and striking out five is a fine effort after your offense dropped five on CC Sabathia. A-Rod hits his first dinger since 2013. Pathetically, of course, he does so in a losing effort, clearly because he wanted to show up his teammates. God that guy is the absolute worst.
Red Sox 6, Phillies 2: Xander Bogaerts had three hits and three RBI, all of those coming on a bases loaded triple. Best part of this game, however, were the retro caps the Phillies wore. 1915 models: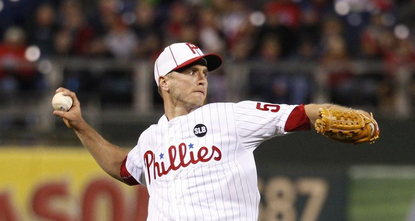 Giants 1, Padres 0: No offense and four hours of play is the sort of thing that makes Rob Manfred wake up in a cold sweat, I'd imagine. Oh well, it happens. And it ends when someone like Justin Maxwell hits a pinch-hit RBI single with two outs in the 12th inning. Or maybe him specifically as opposed to someone merely like him. The Giants only had six hits in the game and the game-winning "rally" happened thanks to an error which allowed Brandon Crawford reach second, an intentional walk and then the Maxwell hit. San Diego stranded six runners at third base, ten overall. Feel the excitement.
Reds 3, Pirates 2: Cincy sweeps the Buccos. Joey Votto hit a two-run shot and started off the opening series of the year 5 for 14 with four driven in. The game ended on a walkoff error, thanks to Gregory Polanco muffing a liner to right off the bat of Marlon Byrd with two men on.