Phillies 4, Red Sox 2: Jeff Francoeur has this thing where he makes a great first impression with new teams. He did it, obviously, when he came up with the Braves. When he went to the Mets. Again with the Rangers, etc. Then, after you get to thinking he's awesome, he reverts to Francoeurdom and frustrates you like mad. I mean, there are worse players. Lots of worse players. And he's a great guy so you want to like him. But that little flash of something he first showed you and then seemed to inexplicably lose just haunts you. Poisons the whole relationship. It's like having a new significant other who cooks you the most amazing meals for the first three months of the relationship and then, for whatever reason, starts bringing home fast food every night and you wonder where all of the great dinners went. Anyway, Jeffy had a three-run homer off of Rick Porcello here and Aaron Harang shut Boston out into the seventh on a cold and icky night.
Tigers 11, Twins 0: I imagine the Twins will score at some point this year. Just not sure when. Ian Kinsler drove in four. Jose Iglesias had four hits. Alex Avila scored four times. This means something. This is important.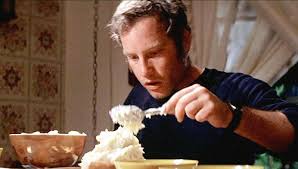 Cubs 2, Cardinals 0: Lance Lynn was good (6 IP, 2 H, 1 ER, 9K), but Jake Arrieta was better (7 IP, 3 H, 0 ER, 7K). The Cubs scored their runs in the seventh, the first of which came when Lynn hit Anthony Rizzo with a pitch then threw a pickoff throw wide to let Rizzo reached second. Then Starlin Castro singled him in. In other news, there were about 9,000 fewer fans for this game than Sunday's, 74 more toilets and no reported problems of bathroom chaos that I've yet seen, so all is right with the world.
Yankees 4, Blue Jays 3: Down 3-1 in the bottom of the eighth, New York scored three when the Jays' bullpen blew up with a bunch of unforced errors. Which, yes, is a tennis term and could be confused with actual baseball errors, but I think we overuse "implosion" when it comes to describing bullpens and I feel something more specific should describe this kind of garbage. Anyway: Aaron Loup gave up a double, a single and then loaded the base with a HBP. Then Brett Cecil came in and tossed a run-scoring wild pitch, loaded the bases again with an intentional walk, hit Brian McCann to allow a run to score and then gave up an RBI single. The Yankees' offense is still pretty bad, but even a bad offense can score when you literally force them across the plate.
Nationals 2, Mets 1: Jordan Zimmermann allowed one run in six innings. But was he truly good enough? We'll have to wait for Thom Loverro's column to let us know.
Reds 5, Pirates 4: A long rain delay, a long game and then two extra innings on top of it ended just before 2AM when Joey Votto singled home the winning run in the bottom of the 11th. It was his second RBI single of the game. I'm so glad he has decided to hit RBI this year rather than choose to eschew all opportunities to drive in runs in the interests of leading the league in on-base percentage. Which is a statement that, I know, sounds insane, but people in Cincinnati actually think that.
Braves 2, Marlins 0: As everyone assumed would be the case, the Braves are 3-0. A.J. Pierzynski hit a two-run homer. Which is a nice bonus considering that his entire raison d'etre is to be baseball's version of a Hanson brother. Shelby Miller made his first start with the Braves and allowed four hits in five innings. Overall five pitchers combined on the six-hit shutout.
Rays 2, Orioles 0: Jake Odorizzi took a two-hitter in the seventh inning. I feel like there have been a lot of fast games so far, but this could be a textbook pace-of-play game. Three hours even which, no, is not an egregious game time in this day and age. But there were only eight hits overall and one of the only two scoring plays in the game ended with a baserunner running into an out. So little action for three hours, it seems.
Royals 7, White Sox 5: Lorenzo Cain hit a two-run homer in the eighth to break the tie and give KC the win. Cain was motivated, he and his manager said, by the fact that he had been hit by pitches in both games against the Sox and that, maybe, they were thrown at him on purpose. If the the Sox are throwing at Royals guys on purpose, maybe they should change their strategy, because it ain't working: Chicago has lost 13 of their past 16 games against the Royals and have been outscored 86-43 in those games.
Rockies 5, Brewers 4: Wilin Rosario played his best position last night — pinch hitter — and it paid off with a tenth inning homer. LaTroy Hawkins vulutred a win when he blew a save in the ninth by giving up two runs on four hits and remained the pitcher of record until the home run was hit. But we'll excuse him because he's one of only two players in baseball older than me anymore, and we HAVE TO HOLD ON TO HIM.
Indians 2, Astros 0: Carlos Carrasco was on point, striking out 10 in six and a third shutout innings. Carrasco posted a 1.30 ERA in his last ten starts last season and is beginning this one on a roll too. Some guys just take a while to put it together, I guess, but the previously frustrating Carrasco has turned into a pretty darn sure thing for Terry Francona and the Indians.
Giants 5, Diamondbacks 2: Chris Heston plunked a guy, allowed him to advance two bases when he sailed a pickoff throw into right field and later allowed a run on a wild pitch, but he shook it off to get his first big league win in his second big league start. Casey McGehee hit a two-run homer. Which helped remind all of us that, oh yeah, Casey McGehee plays for the Giants now.
Dodgers 7, Padres 4: Three homers for Adrian Gonzalez. He has started the season 10 for his first 13 with five homers, two doubles and seven RBI. That's a 2.846 OPS. I think "on pace" jokes after three games are the hackiest thing out there, but I have no pride so I'll note that he's on pace for 267 homers this year. That would be a record.
Athletics 10, Rangers 0: I did three different radio spots in Texas Rangers country yesterday, including Tyler, Texas, Fort Worth and Oklahoma City. They all asked me if I think the Rangers have a chance this year. My answer is "nope." Scott Kazmir allowed only one hit and struck out ten in seven shutout innings. Mark Canha who, um, not, I had never heard of before — and if you're not an A's fan or Canha's mom or something, neither have you most likely — drove in four. UPDATE: OH MY GOD, Canha gave a postgame interview in which he did the "Bull Durham" "Good Lord willin' . . ." speech word for word. I heart him.
Angels 5, Mariners 3: The Angels scored four in the first off Hisahi Iwakuma and held on. Iwakuma was poor in the second half last season. If that was more harbinger than aberration, the M's staff isn't gonna be as good this year as a lot of folks expect it to be. Albert Pujols homered to tie Ted Williams, Willie McCovey and Frank Thomas on the all-time list at 521. That's fairly decent company. I suppose.