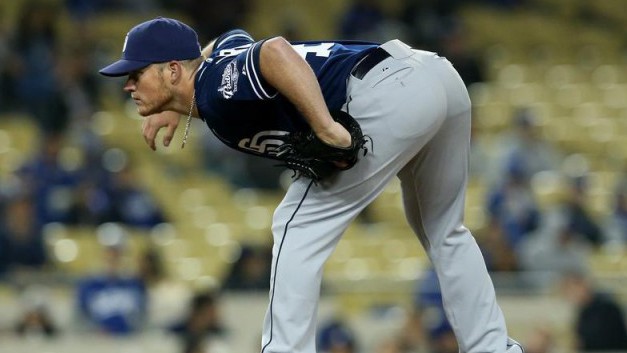 New uniform, same disgustingly filthy stuff from Craig Kimbrel.
Deprived of a save situation because the Padres scored too many runs in the ninth inning, Bud Black decided that he'd still give Kimbrel some work last night. All he did was strike out side on 16 pitches, 10 of which were strikes. Here's one of them.
[mlbvideo id="64439383″ width="600″ height="336″ /]
He featured a 97 m.p.h. fastball and a curveball that clocked 86 and dropped off the friggin' table. He could've maybe finished the Dodgers off in fewer pitches, but he was sort of getting squeezed. But I suppose at this point he needs a handicap to keep things interesting.
We overstate the value of closers pretty routinely, but it's not hard to imagine Kimbrel, if deployed effectively by Black, making a fairly significant difference for the Padres this season.