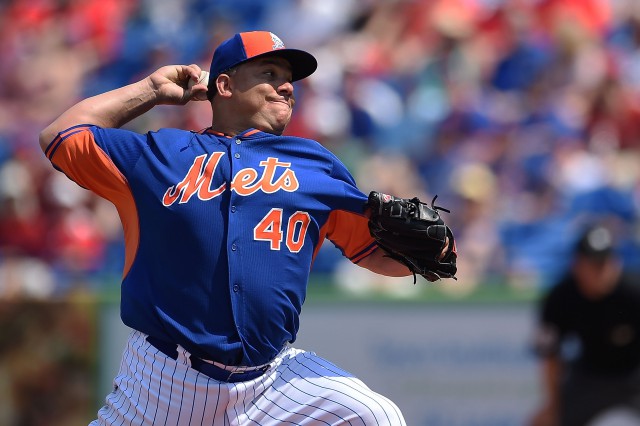 I've seen it bubbling up on Twitter as it seemed increasingly likely for the past several days and now that it's official it has bubbled up to the New York Post: varying levels of dismay that Bartolo Colon is going to the Mets' Opening Day starter. The dismay coming by virtue of the fact that Colon is not one of the Mets' promising young starters like Matt Harvey, Jacob deGrom or Noah Syndergaard:
It's just … curious. Every day for weeks, for months, for years, we have heard about the young guns, the young arms, the ones who are here, the ones who are on the way, the ones who will carry the Mets back to relevance and then to prominence and beyond, and …

And on the day that will begin this rich, fresh, fresh-faced time in Mets history, Opening Day of this brand-spanking-new era, they're going to start the season with Bartolo Colon, who made his first Opening Day start during the CLINTON ADMINISTRATION. (Editor's note: that's 100 percent true.)

That isn't just a buzzkill, let's be honest.

It's a buzz massacre.
Why this matters is beyond me. For one thing the Mets are starting on the road, so it's not like the paying customers are being deprived of their glimpse of the future. deGrom is pitching the home opener, Harvey the second home game.
For another thing, the theory behind who should be honored with an Opening Day start is not exactly a matter of some sort of established orthodoxy. Some teams do it by seniority. Some teams give the start to last year's best pitcher who is still with the team. Some managers have, in the past, decided to play matchups early on and pit their best against the other team's second best and so on. Heck, the mid-80s Braves seemed to give it to Rick Mahler every year because someone there decided that he was Opening Day good luck.
Colon could be getting it on some age-before-beauty theory. He could be getting it because someone decided that, even though he was clearly not the Mets' best starter last year, he led the team in wins and isn't that nice? He could be getting it because Opening Day at any park is occasioned by pomp, circumstance and delay and if you're going to cause one of your pitchers to be taken out of his normal pregame rhythms, why not let it be the old warhorse? He could be getting it because that "buzz" for Opening Day is going to come even if the reanimated corpse of Carl Willey is given the nod. Sustaining that buzz into Games 2-162 is a much harder trick. Better to use the young guns more then.
Or, maybe, it just doesn't matter at all because it's just one of 162 games and who the Opening Day starter was will be forgotten by the second or third trip through the rotation.
And of course by then no one will have a good excuse to get worked up about it all and if no one is worked up it's much harder to make a column or a radio segment out of it.