SURPRISE, Ariz. — For those unaware, Surprise, Arizona is on the northwestern edge of the Phoenix area, near Sun City and Sun City West, which are a couple of the more notable planned retirement communities in the country. Some of the oldest ones too. There are a lot of places that sell golf carts.
I got out to Surprise a bit early so I stopped to get some coffee. At the table next to me were some old guys who were pretty confident that they had solved "that Ferguson business." Seems that if all the people protesting had jobs, they would mind their own business and leave the cops alone. But they don't have jobs, see, because "those people" just don't want to work. One of the men volunteered that his son lived in St. Louis and "believe me, there are jobs there if anyone wanted them, but they just want to live on food stamps." I'm older and wiser than I used to be a few years ago, so I decided not to butt in and note that most of them probably draw social security and use Medicare and, from what I could tell, they had nothing better to do all day than the protesters do, but I let it go.
Over to Royals camp, and we had a different scene than we normally get. No open clubhouse today. Instead, there was a ceremony going on behind it near the practice fields: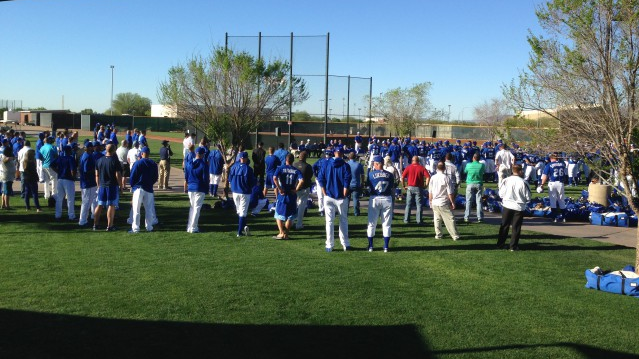 It was the team's minor league awards. George Brett, appropriately enough, presented the George Brett Award to the minor leaguer of the year, Whit Merrifield. The Dick Howser Award was given as well, which goes to the top player development person in the system each year. I couldn't hear who got that, as they had microphone issues. After that, the Omaha Stormchaser players and coaches still with the organization were presented with their Triple-A championship rings, which was pretty cool. There were a lot of wives and kids there too. It was a nice little ceremony, made better by it being on the field, on a nice pleasant sunny morning as opposed to in some blah banquet hall at some blah hotel.
I noted, during the various introductions and acceptance speeches, that everyone made mention of a "championship organization" or the "champions" assembled before them. Many, many "champion" references. Many references to the AL Pennant and two straight Triple-A titles and all of that. It's so different than the last time I was here — or any of the few times before that — when the Royals were considered a sad sack, messed up organization. They likely didn't think of themselves that way then, of course, but the public did and they didn't go around crowing about themselves because one just doesn't do that. It's kind of cool to see them happy and free to crow now, though. It's such a canard to think of ballplayers as just doing it for the money or not appreciating that they get to play "a kids' game" or what have you, but they all want to win and all love it more than anything else.
Speaking of George Brett and winners: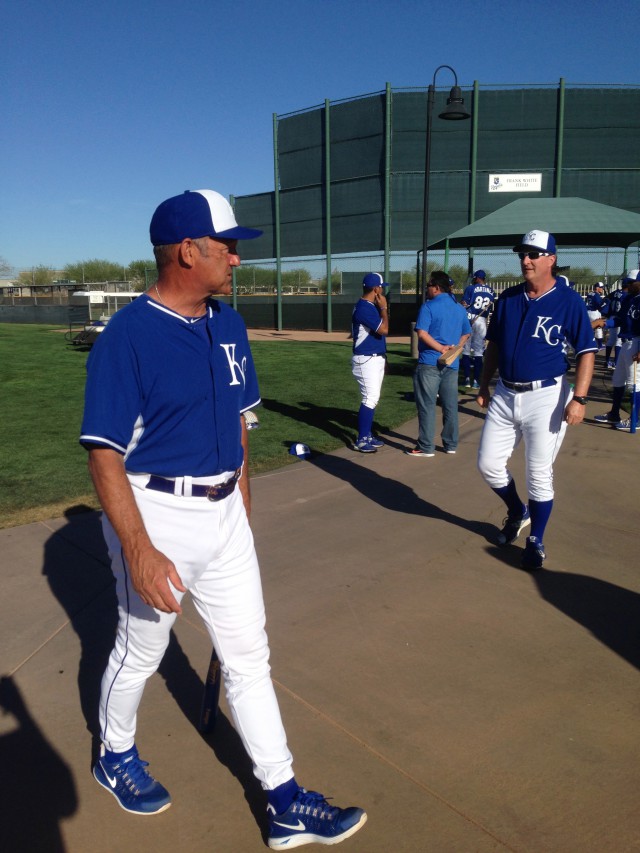 No, I did not ask him about his night at the Bellagio and whether he'd recommend the crab. But I sort of wish I had.
One of the cooler things about the Royals camp is that they do a great job — better than a lot of teams do — honoring the club's history. There are signs and posters and plaques and various other callbacks to Royals greats here, and it's not just showy things for fans. It's back in the practice areas too: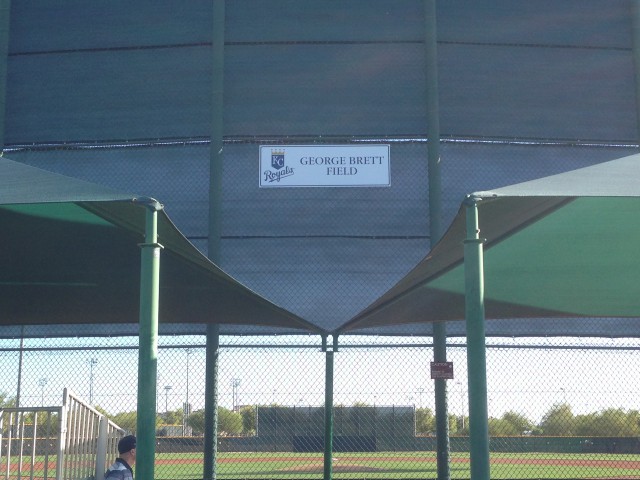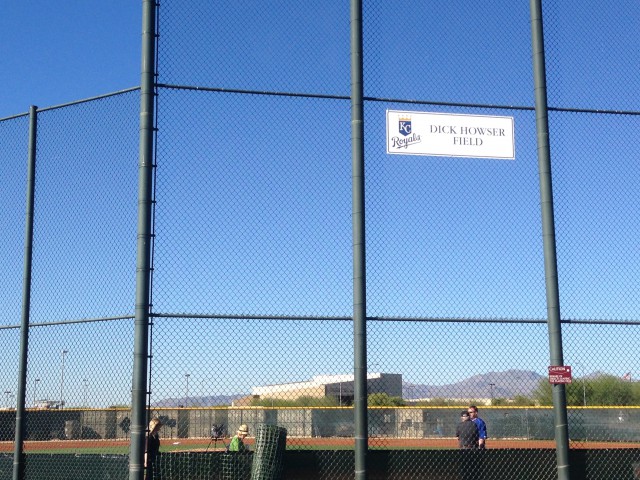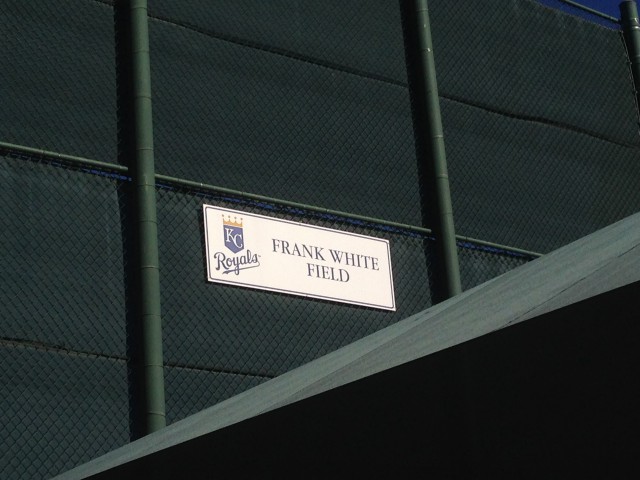 Yep, even Frank White, who has famously fallen out with the club, is honored here. As he should be.
Also prominent, on the back of the batting cages, are pictures of all of the Royals Hall of Fame members. These two were my favorite: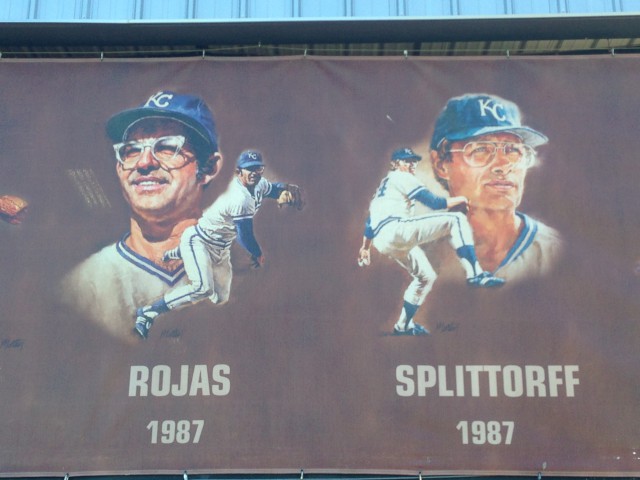 Man, those old Royals' glasses game was on point.
Not that every "Hall of Famer" around here is as cool as Cookie and Paul. These two were not honored by their teams, but by the City of Surprise: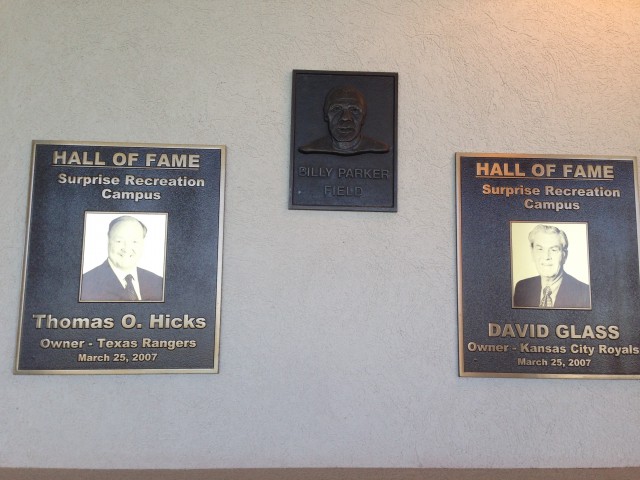 It's nice that Surprise honored the billionaires to whom they gave a spring training facility. Kind of a "thank you for your acceptance of our public charity" thing. I'm guessing those old dudes at the Starbucks had no problem with this sort of handout either.
Finally, my favorite part of the back fields here. Every team has a little setup like this, but the Royals is the most football stadium of them all:
Game later. For now, I'll leave you with this: