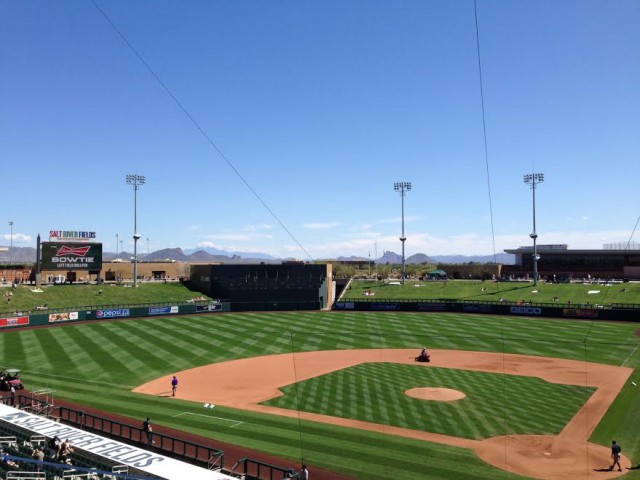 SCOTTSDALE, Ariz. — It's Day 5 for me here in Arizona and I'm about to take in Game 6. Not too shabby. Today's matchup: the White Sox vs. the Rockies. It's a battle of lefties: Jose Quintana vs. Tyler Matzek. Quintana has pitched well so far this spring, allowing one run on three hits in four spring innings. That creep can roll. I don't have the White Sox' lineup yet, but the Rockies are trotting out Tulowitzki, Morneau, Drew Stubbs and a generally major league sort of lineup. It's a sleepy, normal day in spring training. A day after Ferrell-fest, that's probably a good thing.
I've been walking around Salt River Fields here this morning and, as always, it's fantastic. A great facility. Great view. Wide concourses. Nice people. And the home team's social media folks are on point too. I happened upon this cool glove, and tweeted the photo out:
Same glove Prince would use if he played ball. pic.twitter.com/R1HFIV47Nv

— Craig Calcaterra (@craigcalcaterra) March 13, 2015
The Rockies in response:
@craigcalcaterra @purpledinocast Game. Blouses. #PurpleEveryday

— Colorado Rockies (@Rockies) March 13, 2015
That's pretty brilliant, actually. Really, every day should be Prince Day.
Oh, and because I have been criminally negligent in posting equipment bag pics: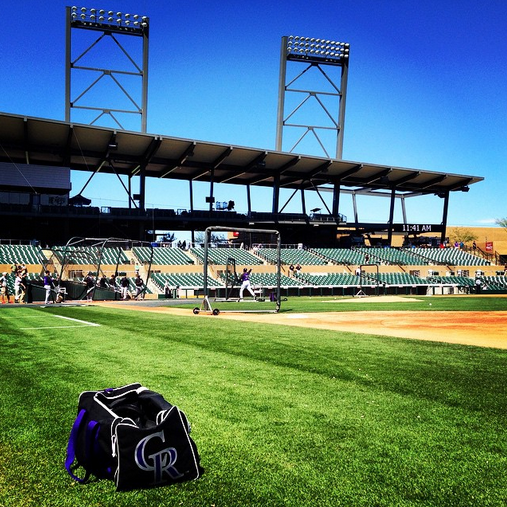 Let's have a fun game and a day with no pitcher injuries, OK? I would love a day with no pitcher injuries.