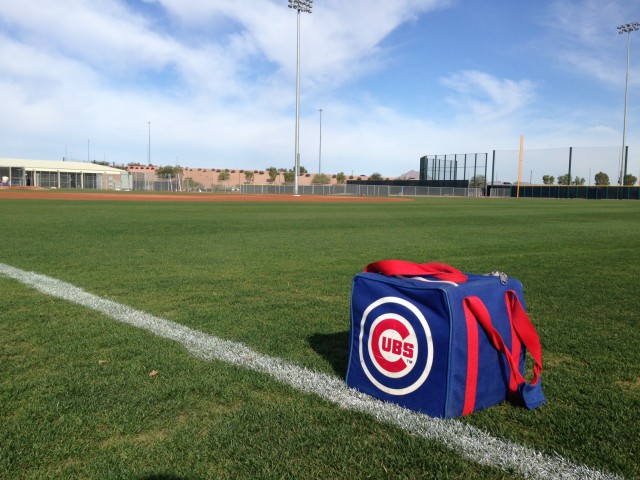 MESA, Ariz. — "Wait 'til next year." That's been the Cubs' motto for more than a century. It's gone from a sincerely held belief to a ironic philosophy to meta commentary on the existential dilemma of what it is to be a a Cubs fan. At its very bottom it's a verbal identifier for members of the same sad tribe. So much losing for so long has caused Cubs fans to build up all manner of psychological defenses, a motto which tells them their reward will come not now but later chief among them.
Walking around the Cubs' gorgeous new spring training facility in Mesa, Arizona this morning, however, and I found some people who are committing what's tantamount to a thought crime among Cubs fans: present optimism.
There's good reason for it. The Cubs have undergone nothing short of a transformation in the past few years. The organization is rotten with top hitting prospects like Jorge Soler, Javier Baez, and Kris Bryant. Anthony Rizzo and Starlin Castro are superstars, each only entering their age-25 seasons and each around whom a serious contender can be built. The acquisition of Jon Lester this past winter was a free agent coup no one would've dreamed the Cubs could pull off even a year ago. The same could be said of the hiring of Joe Maddon away from the Rays. The amount of positivity surrounding this organization right now is pretty staggering, especially considering that they're coming off a 73-89 season.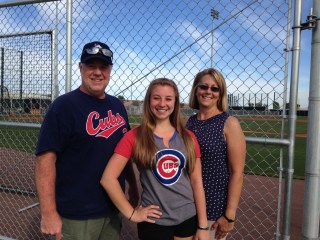 I asked Don Myers of Cary, Illinois — here with his wife Joyce (a White Sox fan) and daughter Nicole (non-committal, but wearing a Cubs shirt) — if they're excited about the 2015 Cubs. Or if, after a lifetime of disappointment as a Cubs fan, maybe it's a good idea to temper one's enthusiasm. He rejected the notion.
"Screw it. It's our year," Myers said with a chuckle. He's not deluded of course. He knows the NL Central is tough and ballclubs can take a while to gel. But Myers said that it's baseball and what's the point of being a baseball fan if you don't think positively? "I'm quite optimistic," Myers said. When I told him about Soler, Baez and Bryant going back-to-back-to-back yesterday he smiled and said offered a low, happy "wooo!"
More tempered in her optimism is Diana Jaworski of Joliet. Jaworski — visiting Mesa with her husband Jeff, also a White Sox fan — said she is "cautiously optimistic" about the new-look Cubs. Jaworski is more what you expect from a Cubs fan. She has had her heart broken pretty consistently since the 1969 collapse. "When the ball went between Leon Durham's legs [in the 1984 NLCS] I sobbed," she said. She remembers being crushed when Steve Bartman happened in 2003. "We were six outs from the World Series. It just wasn't our turn," she says. Though she sounds like, even more than a decade later, she's trying to convince herself of that.
Jaworski's hesitance to fully buy-in is not merely a product of those heartbreaking moments, however. When talking about Joe Maddon and his positive attitude she said, "we were supposed to get excited about Don Zimmer. Don Baylor. Dusty Baker. Lou Piniella." She noted that, under those regimes, it was more typical for the Cubs to "put together a bunch of old players who were famous but whose careers were almost over" while the new Cubs are all about young up and coming players. She is aware that Theo Epstein and Jed Hoyer transformed another one time sad sack organization into a champion and thinks it can happen with the Cubs too.
But she's not in the bag just yet. Jaworski has four children, three of whom are Cubs fans. "I've told them all, 'honey, I'm sorry I ever did this to you.'"
If Don Myers is right, however, she won't be sorry soon.