GLENDALE, Ariz. — Three other random observations from spring training this fine afternoon, all of which are very spring training-y kinds of thoughts.
1. This is Clayton Kershaw. He's a bad, bad man: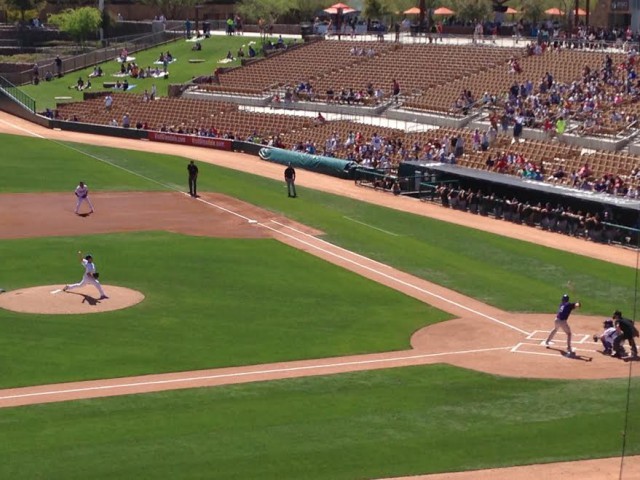 But that bad, bad man also hung a curveball to Nick Hundley who deposited it over the fence, Matt Adams-style. I tweeted a joke about him being in postseason form after it happened and some people got genuinely irked. Some other people did the Twitter equivalent of nodding their heads. Combine that with this dumb article from Bruce Jenkins of the San Francisco Chronicle yesterday about how the Dodgers' postseason failure last year was due to some character deficit or something, and you see the makings of the Post-Hoc Narrative Industrial Complex. Baseball just happens, man. Sometimes curveballs get hung.
2. There were two scouts here in the Cambelback press box a couple of hours ago, talking about a pitcher. The pitcher looked good. Sharp. They were impressed by his ticked-up velocity. They think he has a chance to really be special this year. The pitcher's name: Barry Zito. Indeed, they each prefaced their compliments about the guy with things like "I know it's Zito," or "I know it's just a couple of games in," but their excitement was real.
In the past I'd chalk all of this up to spring enthusiasm and stuff, but man, Scott Kazmir happened, so I'll believe anything anymore.
3. Down the road from here in Goodyear, the Cubs are playing the Indians. A few minutes ago Jorge Soler, Javier Baez and Kris Bryant hit back-to-back-to-back homers off of Trevor Bauer.
I know there was already a ton of optimism about the Cubs heading into this season, but it's probably off the charts in Cubs Country this afternoon.
I'll be at Cubs camp in Mesa tomorrow to see how nuts it really is.