Over the winter and, again, as spring training started, the New York tabloids were on Alex Rodriguez's case about his attempting to play defense. The idea being that he's not the Yankees' third baseman anymore so even his efforts to take groundballs at third base were an act of defiance of some sort. Some selfishness on his part designed to be provocative.
You'll recall the conceit of these items. That A-Rod "didn't get the memo"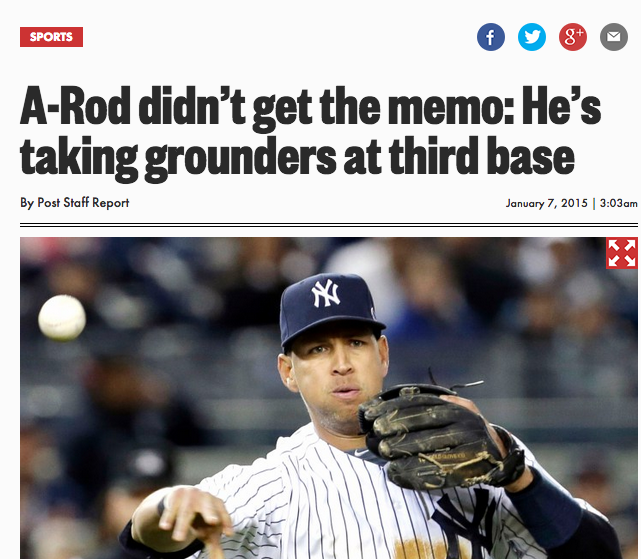 And of course:
The most controversial DH in history is taking grounders at 3B #didntgetthememo #Yankees

— Joel Sherman (@Joelsherman1) February 23, 2015
Well, it appears that A-Rod continues to selfishly refuse to read the memo. And that evil SOB must've drugged or brainwashed Joe Girardi to allow him to actually play third base in a game yesterday. And must've drugged or brainwashed all of us into seeing him actually perform there decently:
He said after the game not to expect too much of him on defense this year, but hey, he can fill in from time to time. He also went 1 for 2 with a double. So the long-promised "A-Rod will be a disaster" spring training is not exactly going as planned
God, A-Rod. You can't even screw up properly.