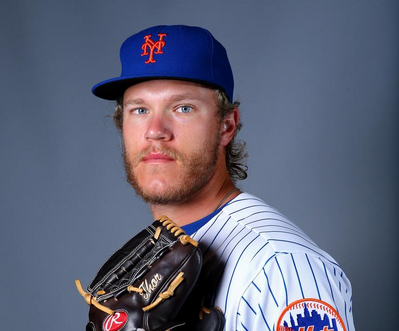 Drama in Port St. Lucie today during the Mets' intersquad game vs., um, the Mets. Marc Carig of Newsday gave the blow-by-blow:
David Wright and Bobby Parnell got on Noah Syndergaard today eating lunch in the clubhouse during the Mets' intrasquad game.

— Marc Carig (@MarcCarig) March 3, 2015
Syndergaard was contrite, but it was not a comfortable exchange. He told me he was stunned when Wright got on him for being in clubhouse.

— Marc Carig (@MarcCarig) March 3, 2015
As Wright scolded Syndergaard, Parnell took his plate, still piled with food, tossed it into a nearby trash can.

— Marc Carig (@MarcCarig) March 3, 2015
Marc has more details about it in his Twitter feed, but that's the gist. That and the fact that, according to Carig, all pitchers were told they needed to be on the bench for the game, not in the clubhouse. And that this is not Syndergaard's first big league camp, so he should've known better.
So that happened. On the bright side: we probably won't see any of those tired "David Wright needs to step up and be a leader" articles for a good long while. Oh, and I imagine Syndergaard is going to be getting a pretty nifty nickname out of all of this eventually.