On Twitter last night D.J. pointed out that our current "Top Posts" banner is pretty damn retro at the moment: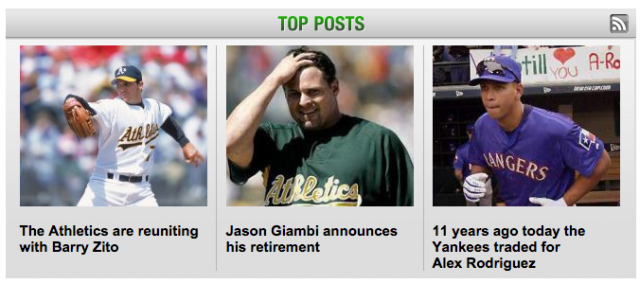 The last time those three players could be seen in real life in those three uniforms was 2001 so, yeah.
The Giambi retirement has me thinking about time and age. I was born on July 14, 1973. He was born on January 8, 1971, making him one of the last active players who was older than me. As far as I can tell, that leaves only two guys in the bigs who made it to this Earth before I did: LaTroy Hawkins (b. 12/21/72) and Bartolo Colon (b. 5/24/73). Hawkins is apparently a cyborg, so he'll be around for another, like, 50 years. Maybe he can be for me like Jamie Moyer was for so many of you old farts: that one guy who hangs on forever, delaying the inevitable day when every big leaguer is a whippersnapper in my eyes.
That got me thinking about who was the first big league ballplayer younger than me. I think it's Ismael Valdez (b. 8/21/73), who made his debut for the Dodgers on June 15, 1994. Valdez has been out of baseball for a decade. The next player younger than me after him was Alex Rodriguez, who debuted on July 8, 1994.
"Baseball Mortality," or whatever you want to call it, is a fun game to play. A good place to start is this chart for the younger-than-you crew and this chart for the old timers.
If you're not in the right frame of mind, Baseball Mortality can be a little depressing. But don't let it be. The actors and rock stars who are younger than you come first. Then the ballplayers. Because they're so visible, those are the types of folks that we tend to think of when we look to external age markers. But they're on the extreme end. A lot of you are still younger than, say, all the presidents. Maybe your doctor. A full professor at your local college. Personally, I take great comfort in knowing that Raymond Chandler didn't publish his first novel until he was 51. We all got time.
But, at least if LaTroy Hawkins or Bartolo Colon are in a given game, I can call all the ballplayers "kids" now. Which is simultaneously fun and unsettling.