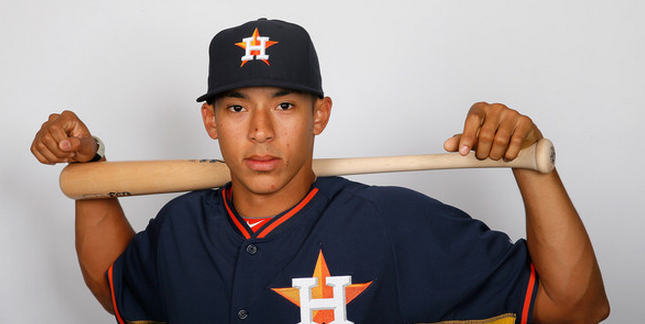 This is the first ever BSOHL HardballTalk has featured in Spanish!
"Me siento al 100%. Mentalmente preparado. Eso (la lesión) nunca ha sido un issue. Siempre he estado mentalmente fuerte para las adversidades que hay que sobrepasar, y en este deporte hay que pasar muchas", manifestó el campocorto santaisabelino.

"Físicamente me siento en mi mejor momento. Mejor que el año pasado. He aumentado de peso, he adquirido más fuerza y rapidez, y el entrenamiento que hemos hecho todo el año ha salido a relucir", agregó el jugador, manifestando algo detectable desde antes de estrecharle la mano.

Una espalda más ancha, así como unos brazos más definidos y anchos, castigan las pelotas que le lanzan durante esta sesión en el Hiram Bithorn, donde fue obvia la transformación en el cuerpo de la primera selección del 'draft' del 2012.

"Su cuerpo ha cambiado totalmente", dijo su entrenador físico, Ulises Rosario. "Para este año nos enfocamos en fortalecerlo para que borrara lo que sucedió (la pequeña fractura en su peroné o fíbula) y recuperara la confianza. Desde el primer día vi su buena actitud y creo que no mencionó la lesión una sola vez".
Thanks to reader Scott Simon for the heads up. And thanks to Google translate for the rough translation job. Which, while obviously not perfect, makes it quote clear that this is a BSHOL article, what with talk about adding bulk, obvious physical transformations and the strong downplay of his previous injury. Because, remember, BSOHL is rarely about actually being in the BSOHL. It's usually an article either spinning an off-year or injury-plagued season.
Not that Correa needs too much spin. Before he fractured his leg last year he was having an excellent season, hitting .325 with 20 steals in 62 games at high Single-A as a 19-year-old. Even with the injury, he's still well ahead of where most top prospects are at his age.