Jeff Passan of Yahoo Sports has a column about how James Shields ended up signing a four-year, $75 million deal with the Padres after remaining on the open market far longer than anyone expected.
In tweeting out a link to the article, Passan calls it "a botched strategy" by Shields' behalf: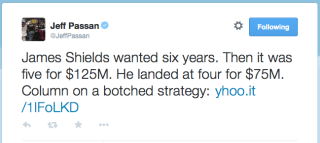 There's some truth to that, certainly (and Passan's column is a solid one, as are most of his columns). Almost every free agency prediction had Shields signing for more than $75 million and Shields himself probably wasn't counting on taking four years from San Diego.
But he's obviously not the first free agent to overestimate his market value and here's the thing: That's a helluva "botched strategy." Shields botched himself into …
1. Living in San Diego, which is one of the nicest places in the country and is where the California native already makes his home during the offseason. I mean, think of how often we hear about how some free agent wants to play in his hometown. Shields actually did it.
2. Playing in the majors' most pitcher-friendly ballpark, Petco Park, which will help his raw numbers look much better than they actually are and keep any mid-30s decline from being as severe-looking. It's basically like a free agent hitter signing with the Rockies to play 81 times a year at Coors Field.
3. Being paid $75 million, which is a lot of money–third-most among all free agent pitchers this year behind Max Scherzer and Jon Lester–and probably has the exact same impact on Shields' lifestyle that being paid, say, $100 million would have had.
Passan is absolutely right that Shields' offseason didn't go as planned, but we should all wish for that kind of "botched strategy."