The battle is on in the National League East. After word came down this morning that the Nationals and right-hander Max Scherzer agreed to a seven-year, $210 million contract, the Mets delivered a counterblow this afternoon by announcing that they plan to have a bigger scoreboard at Citi Field this season.
Below is part of the announcement from the team and a closer look at a mockup of the new scoreboard:
The New York Mets announced today they are installing a new Daktronics high definition Citi Field centerfield video board that is 62% larger than the original screen. Beginning this week, Daktronics will design, manufacture and install at Citi Field one of the first 13HD LED centerfield video board displays inside a professional baseball venue that will be 62% bigger than the original Citi Field centerfield board. The new board, set to debut on Opening day, April 13, will measure 5,670 square feet (Up from 3,500 square feet).

The installation puts the Mets in the top 10 largest displays in professional baseball and makes Citi Field one of the few baseball venues to feature more than one video capable LED display in the seating bowl. The installation brings the total square footage of all displays in the Mets' super-system to more than 17,000 square feet. The previous total square footage was 13,500 and replacing older technology is providing a total of 7,000 square feet of new video display technology.

"As we look forward to a great season on the field in 2015, these significantly bigger and higher resolution video boards are state-of-the-art in size and LED technology and re-inforce our commitment to provide our fans a superior experience when attending games at Citi Field," said Mets COO Jeff Wilpon.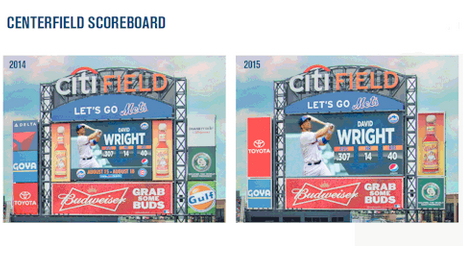 Enhancing the fan experience is nice and all, but are fans supposed to care that the Mets will have one of the "top 10 largest displays in professional baseball"? Maybe a top-10 payroll proportionate to the market they play in, but not a top-10 scoreboard. The best scoreboard renovation they could have is winning more baseball games. Until that time comes, efforts like this just come off as window dressing.