This is . . . interesting. It would appear, at least based on the tweets of some people who tend to know what's up with the Mets, that the Mets are requiring their players to pay to attend certain offseason workouts: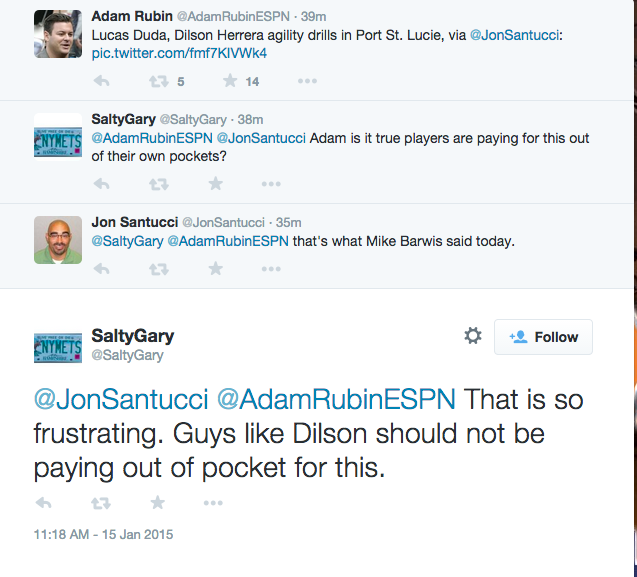 Rubin added later:
Think an agent told me they asked $1,000 from minor leaguers.RT @SaltyGary: is it true players are paying for this out of their own pockets?

— Adam Rubin (@AdamRubinESPN) January 15, 2015
They're pushing envelope of what's permissible in terms of sponsored offseason workouts. Almost seems like there's penalty for not attending

— Adam Rubin (@AdamRubinESPN) January 15, 2015
The "Barwis" mentioned there is the Mets new strength and conditioning consultant, Mike Barwis. He is more famous for working for the University of Michigan and West Virginia University. He's also the star of the Discovery Channel TV show "American Muscle."
During the Winter Meetings I spoke with a baseball source who voiced some non-specific skepticism about these workouts and the Mets' hiring of Barwis. I am going to assume that Rubin's view — that Mets players are, more or less, being compelled to attend these things, at their own expense, no less — is what they were talking about.
If this is true — and given that Barwis himself is telling people that minor leaguers are paying him, there's a good chance it is  — it's simply awful. As we've discussed an awful lot around here, minor leaguers make peanuts for the most part. And yet the Mets are, allegedly, requiring them to shell out for their own training and, subtly or otherwise, communicating that there is a penalty for not attending the sessions.
And you thought the Mets were cheapskates based on their payroll alone.