ESPN has announced its Opening Day quadruple header lineup and its early season Sunday Night Baseball matchups. To wit: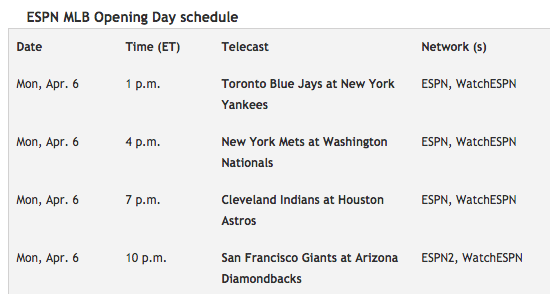 and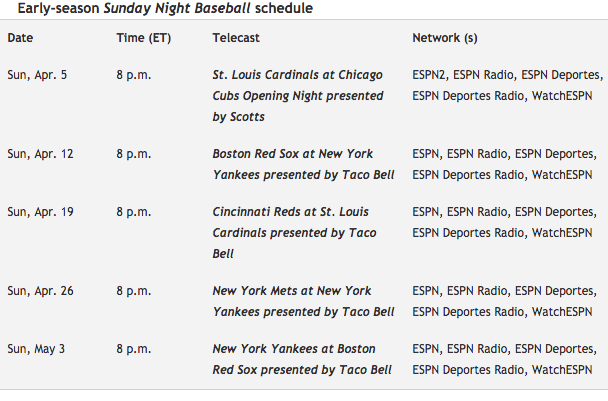 People will, as usual, complaint about all of the New York and Boston. To which I say: "meh." TV stations are in the business of getting ratings. This is what they would do.
Besides, Sunday Night Baseball has become all but unwatchable anyway. It features a three-man booth which, Dan Shulman's workmanlike service notwithstanding, is always a distraction as 50% more voices than usual compete to provide insight that, most of the time, isn't really necessary. And to better justify their presence they go off on tangents that have nothing to do with the game at hand. Quite often, actually. When they do talk about the game at hand they provide generalities and sometimes even misinformation about the players and teams involved. I'm sure John Kruk is a nice man, but preparation to analyze the parts of a baseball game we non-players may not immediately see is not his strong suit.
But then again, ESPN doesn't treat Sunday Night Baseball like any other baseball game. They treat it as the weekly Baseball Show, and gobble up all kinds of time talking about events and news stories we've all been talking about for several days. They do things like interview managers in the dugout in the middle of the game. The typical Sunday Night Baseball broadcast does not act as if the game is just one of 15 that happened that day and one of 100 or so that happened that week. And for this reason most of what the broadcast chooses to emphasize is an unnecessary distraction.
Which is a shame given their technical production values and the huge platform ESPN provides. Just think what Sunday Night Baseball could be like if everything that is good about televised baseball were present there and so much of what is bad was not.
So, beef all you want about the Yankees and Red Sox dominating the schedule. It's of relatively small concern in my view.