None of this of consequence, but it's always fun. It's  . . . . the basement of the BBWAA ballot: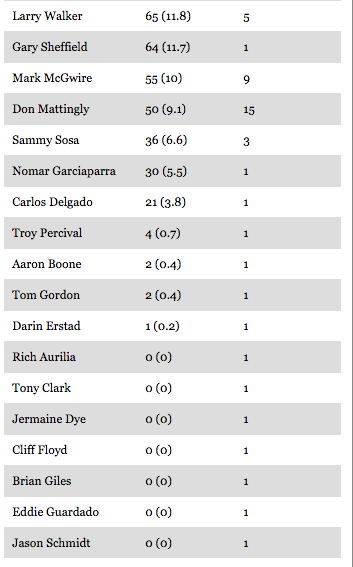 Thoughts:
I guess it's good that Larry Walker's vote total increased over last year's 10.2%, but it's a pretty meager bounce. The guy may be borderline for some — maybe even borderline for me — but he gets way less support than he deserves;
Frankly, I'm surprised Gary Sheffield, Mark McGwire and Sammy Sosa remained above 5%. Between steroids and surliness I'd figure they'd be cast into the abyss. Instead we get to talk about them again next year.
Carlos Delgado may have one of the best careers ever for a one-and-done candidate. Him, Lou Whitaker and Kenny Lofton are the beginning of a pretty kickass baseball team.
Darin Erstad got a vote. That's the most special thing about this ballot, I'm pretty sure. I never figured I'd argue over such a nonsense thing, but if you're going to give ONE of the no-vote guys a sympathy vote, how can it not be Cliff Floyd?
OK, I'm done with that.