Earlier today I said that some Hall of Fame voters will seek to protect the children from evil steroid-doers and others will dissemble or imply wrongdoing they can't prove or what have you. Jon Heyman has become an expert at the form. Here are three guys he is not voting for. Because they're "under review":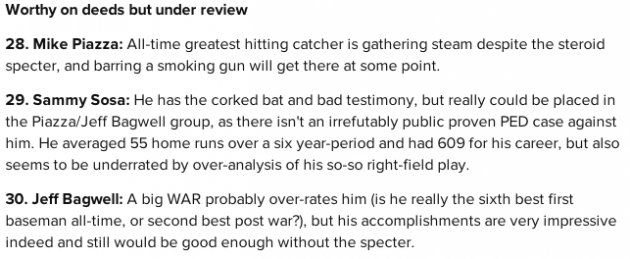 He also notes that there is "varying degrees of smoke" about some of these guys.
Heyman is maybe the most-connected baseball reporter in all of Christendom and has had 20+ years with these guys, but they're "under review." I guess the "steroid specter" — which I am pretty sure was the bad guy in a "Scooby-Doo" back in the day — needs more investigation. Maybe if Heyman and his colleagues engage in some more "You think Bagwell was 'roiding?" "Oh, sure, definitely" chatter they'll get to the bottom of it.
But I do love Heyman's overarching defense here. It's basically "hey, we need to be fair! Let's not just presume that one random player did drugs without evidence. Let's presume that A LOT OF THEM DID!"
There are fair reasons to be suspicious in some cases, from quotes supportive of steroid guys to physiological changes so extreme they're tough to ignore to other issues that paint a fuller picture. As for folks who claim it "un-American" not to presume innocence, well, this isn't a court of law, and the standard for Cooperstown is reasonably lower. While we're at it, a question for some of those folks: Why is it OK to presume Sammy Sosa's involvement but not Mike Piazza's or Jeff Bagwell's? None of the three has been proven to have taken steroids by any evidentiary measure.
Answer from this folk: it's not OK to presume anyone's involvement absent evidence. But I suppose that's quaint.
Finally there's Heyman's reference to Sammy Sosa's "bad testimony," referring to the time ten years ago when Sosa and others were called before Congress and Sosa chose to testify in his native language. I've written about that at length in the past, but let's refresh our memories here and note that anyone who thinks that Sosa's choice to testify in Spanish was wrong or suspicious or questionable is a complete and utter idiot who would never, ever take the chance that they wanted Sosa to take in front of Congress. And I say that fully believing that, yes, Sosa was trying to put one over on people in front of Congress.
I'd have more respect for Heyman if he simply said that in his evidence-free opinion — or based on the gossip he and other baseball writers freely share — he thinks Jeff Bagwell and those guys took PEDs. Don't pretend you're waiting for some clarity. Don't put it all on some "specter" that allows you to claim this is coming from anyone other than yourself. Don't cite some totally reasonable and innocuous thing like someone testifying under oath in their native language as a pretext. Just say "I think that guy is a cheater because I think he's a cheater." Be honest, for Pete's sake.