This is the time of year when we remember that, no matter how good a reporter Jon Heyman is — and I fully and sincerely believe him to be an excellent reporter — he's clown shoes when it comes to the Hall of Fame.
First, his tweet from a few moments ago, addressing the ballot logjam issues we discussed this morning:
understand predicament Hall voters feel with jammed ballot. heres a possible solution: dont vote for guys who cheated!

— Jon Heyman (@JonHeymanCBS) December 5, 2014
Now his column from 2011: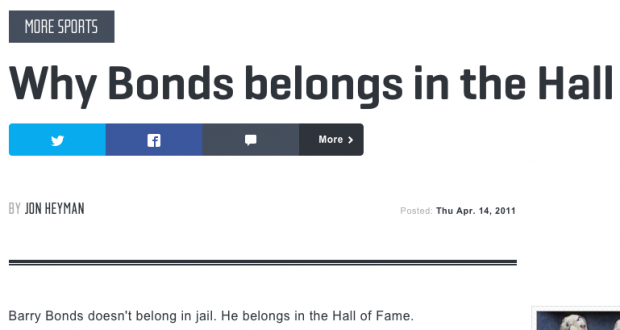 Read the whole thing here. It includes this passage:
For the Hall, it's a judgment call. Scoundrels and cheats are already in. So are foul-tempered jerks. Bonds may be all three. He is also one of the three greatest players I ever saw in his prime, along with Alex Rodriguez and Rickey Henderson. A baseball Hall of Fame would be empty without Bonds.

While I do believe Bonds took steroids (whether it was knowingly or not doesn't much matter to me, though if I had to guess, I think he knows everything that goes in his body), I don't believe all steroid users should be excluded from the Hall of Fame. I'm not here to sit in moral judgment of another human being.
I agree with 2011 Jon Heyman. I think he and 2014 Jon Heyman should have a sit-down about it all, though, and come up with a unified message.
(thanks to Simon for the heads up on the 2011 article)