We're still awaiting official confirmation of the Pablo Sandoval and Hanley Ramirez signings in Boston. But let's get out in front of this one in the meantime: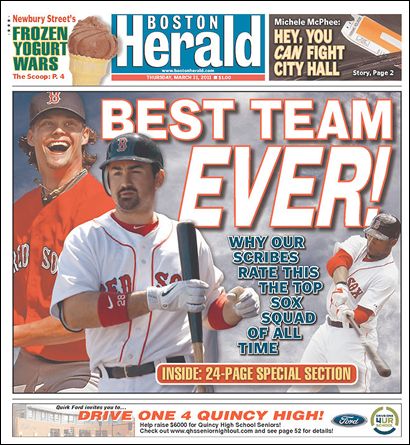 Yes, that was about the 2011 Red Sox after the Carl Crawford and Adrain Gonzalez signings, and yes, I've already seen some of you talk about how the Sox signing Ramirez and Sandoval reminds you of that. Which, OK, I get the association. But let's also remember a couple of things about all of that.
The Crawford and Gonzalez signings committed the Sox to seven years and $296 million. The Sandoval and Ramirez signings, if accurately reported, would be five years and less than $200 million. So already it's nothing like that in terms of the dough.
The bigger issue, I think, is that offense is growing ever more scarce and the Sox have a better foundation with younger/upside guys like Xander Bogaerts, Mookie Betts and Rusney Castillo to hedge against shortfalls from expectations on the part of Sandoval and Ramirez. Also worth noting that a big problem for the 2011 Sox was that the pitching didn't meet expectations. The current Red Sox have some pitching needs to address, but it's also just November 24, and one has to assume they will address it, either with cash to someone like John Lester or Max Scherzer or via a trade with what is now a surplus of outfielders and other position players.
None of which is to say that these moves guarantee that the Sox will compete in 2015. We all remember how such predictions have gone for the teams which have made the big splashes in the past, be it those old Sox, the 2012 Marlins, the 2013 Blue Jays and a host of other teams.
But simply pointing to the 2011 Sox and saying "it didn't work before, so it won't work again" is no more sound than going all-in on a prediction of guaranteed success.