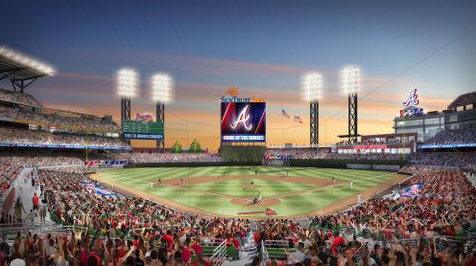 We've noted before that Tim Lee, the chairman of the Cobb County, Georgia Commission, is in ethical hot water because he apparently bypassed some laws in his effort to lure the Braves out of Atlanta. Shocking, I know, that a politician would do such a thing when trying to lure a professional sports team.
But even better than his apparent skirting of ethics laws in doing so is his defense against the ethics charges he now faces. As the Marietta Daily Journal reports, his response to the ethics complaint filed against him is  . . . well, special:
The motion to reconsider, filed by Freeman Mathis & Gary attorney David Cole on Tuesday, states Lee "respectfully submits the board's decision to schedule this complaint for a hearing was in error," because the portion of the county's ethics code the board used in its decision "cannot be a basis for discipline."

The portion of the ethics code in question states government officials "by their conduct should avoid the appearance of impropriety."

Cole argues the use of the word "should," as opposed to "shall" or "must," means the portion of the code is not a mandatory standard of conduct, but rather an "advisory statement."
Got that? He's saying "The law just says I should avoid impropriety. Not that I, you know, have to."
A good chunk of my legal career was spent defending crooked politicians in front of the Ohio Ethics Commission. I will humbly submit that, even though government ethics commissions often lack teeth, if I had made such an argument in front of them they would've laughed my butt out of the building.
In any event, here's to the eternal chutzpah of politicians who think giving handouts to billionaires and corporations so that they can profit more on their already insanely profitable sports teams is a good idea.