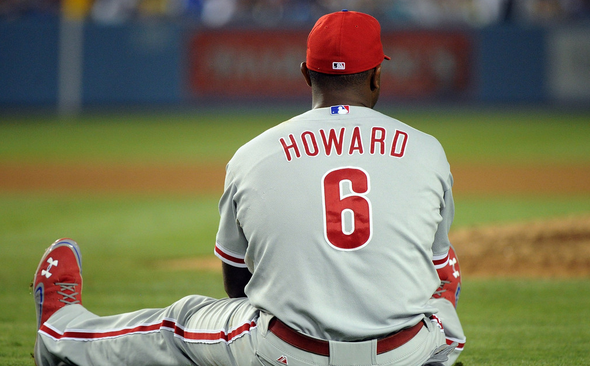 At times like these I'm always inspired to post one of my favorite tweets ever:
good job by #phillies to sign superstar ryan howard to a 5-year contract extension

— Jon Heyman (@JonHeymanCBS) April 26, 2010
It seems so long ago. And it may as well be. Buster Olney reports today that the Phillies themselves are trying to make that history this winter:
Ryan Howard has had his last at-bat as a member of the Philadelphia Phillies.

That's what the Phillies hope, anyway. That's their goal, according to rival executives . . . The mantra on Howard appears to be: He is priced to move.
Olney reports that the only possible targets are AL teams where he could DH and play occasional first base. I mean, get this line from an anonymous source in there: "He's Adam Dunn, although Adam Dunn is probably a better defender at this point than he is."
Ouch.
Howard is owed $50 million for 2015 and 2016 and either a $23 million 2017 option or a $10 million buyout. So let's call it $6o million over three years. Of course, if we've learned one thing in the past few years it's that no one is untradeable. Vernon Wells was dealt. Alex Rios. Dunn. There are bad contracts attached to washed up players that can and do get moved.
But it's not like the Phillies aren't going to be paying most of Howard's deal. And it's not like they can expect a lot in return for Howard. Mostly it'd be a page-turning deal. A signal to the team and the parts of the fan base that are still living in 2008 that the team is fully committed to rebuilding.