When Alex Gordon's drive to left-center with two outs in the ninth was misplayed twice, it certainly seemed as if the potential was there for a game-tying inside-the-park home run off Madison Bumgarner. But it simply wasn't meant to be.
Gordon got the stop sign to stay at third, and it was for the best. Here's the video:
[mlbvideo id="36878067″ width="620″ height="381″ /]
The most telling screencap is this one: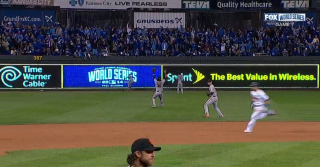 Juan Perez has the ball at that point and is ready to uncork his throw. Gordon is still just shy of halfway between second and third.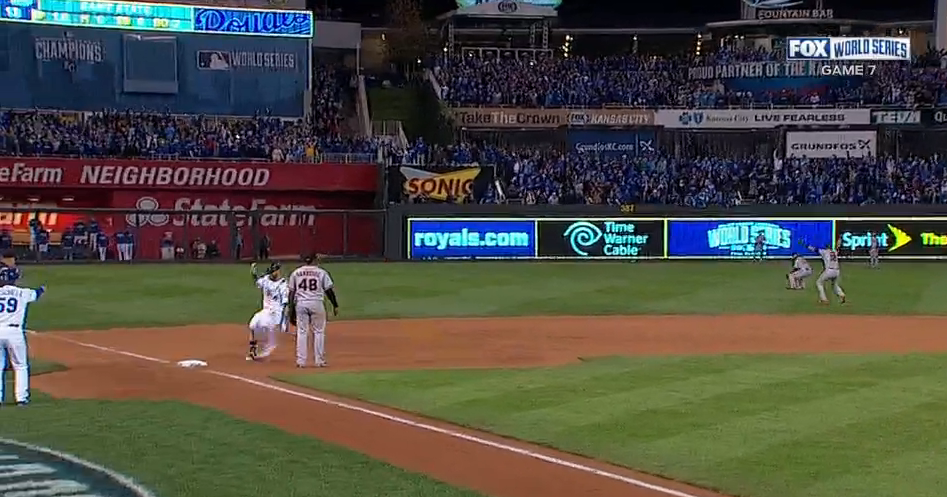 Brandon Crawford now has the ball in shallow left. Gordon only found out he had the stop sign a second before this, so it's not like he would have had picked up more than another step had had been busting it.
Of course, Crawford could have made a poor throw home. But he wasn't rushed, and he has an excellent arm. With any sort of decent throw, it's not even a close play at home. You could still argue that forcing the Giants to make the relay still might have been a higher-percentage play than counting on Salvador Perez to extend the game, and I wouldn't necessarily disagree. But it was a low-percentage play either way.