It's not a great career move for a dude down in the bush leagues to slam a guy on the big club. It's especially bad when it has a dumb, jingoistic element to it. But that's what Royals minor leaguer Zeb Sneed did, with Yordano Ventura as his target.
It came in result to this image, from after last night's game: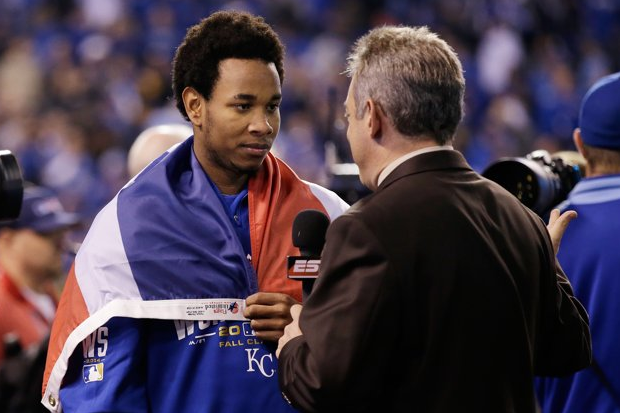 Sneed tweeted this in response:
Get that Dominican flag off your back Ventura, this is america! #america #royals

— Sneeder (@zeb_sneed) October 29, 2014
This morning, Sneed apologized:
I sincerely apologize if my tweet last night came off as racist. I support Ventura honoring Oscar, and I simply didn't think of the — Sneeder (@zeb_sneed) October 29, 2014
ramifications of a statement I made from a patriot mindset. I will be more considerate of my wording in the future.

— Sneeder (@zeb_sneed) October 29, 2014
A "patriot mindset?" "Wording?" Yeah, that's clearly the problem here. It has nothing to do with him actually thinking that a guy honoring his friend and his country is offensive or somehow undermines America.
Whatever. We now return you to the several more hours of flag-waving patriotism and tributes that remain in this major league season. Those are just dandy.