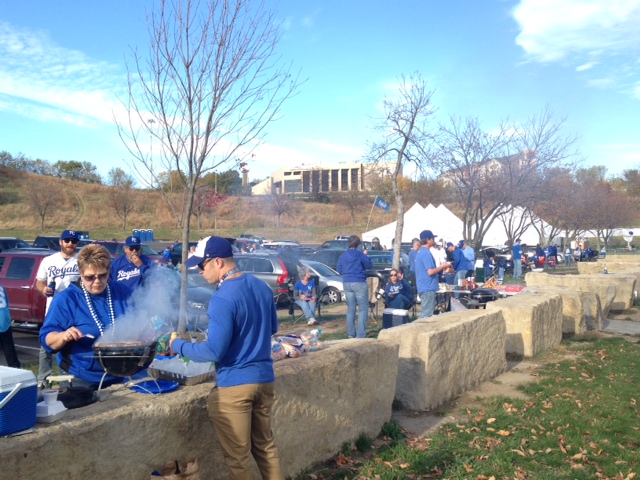 KANSAS CITY — Tailgating is a football thing. There are places in baseball where it is done, of course. Milwaukee is famous for it. I've been at a tailgate there, and it may as well be a college football game (and I mean that as a compliment). I am told that there is good tailgating at A's, Rangers and White Sox games. But those places, and whatever others have tailgating scenes, are the exception, not the rule.
I wasn't aware that there was tailgating in Kansas City until my friend Josh Fisher invited to me one today. Long time readers may remember Josh as the guy behind Dodger Divorce back in the day, but now he's a lawyer in Kansas City. Today he's a Royals fan having some brews and stuff with his friends:
From left to right, that's Brent Wittrock, Scott Anderson, Josh Fisher and Kent Wittrock. Brent and Kent are brothers, because they were born in the 70s and that's just what parents did back then, man.
They're also all nice guys who let me hork one of their Boulevard Wheats, which is OK because it was in the interests of journalism. They also took four bucks off of me in some dice game I'm still not sure I understood: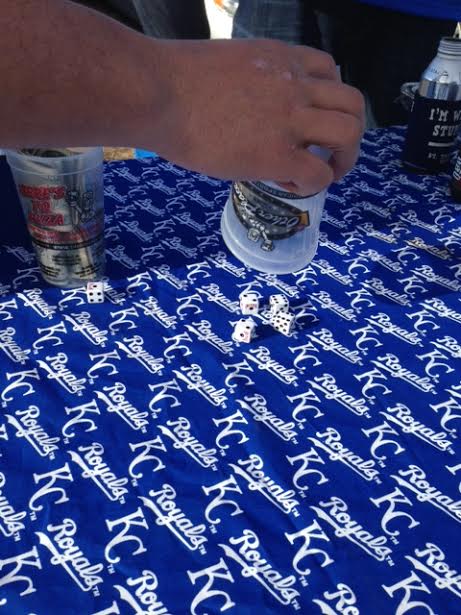 The low number won. But six was the lowest number. I don't know. I'm pretty sure it was designed on the spot to take money from the reporter writing about their tailgate. All I know for certain is that when each of these guys put their money in the pot, they did so from a roll of about 20-30 singles, which suggested some of their other activities to me, but about this let us say no more.
In a little while these gentlemen were joined by these ladies: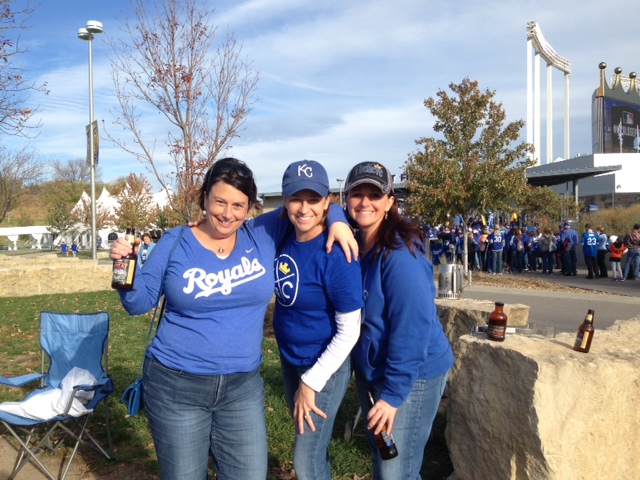 That's, from left-to-right, Julie Woulfe, Kate Dent and Denise Rendina
Julie kinda sorta maybe knocked off work early to make it down to Kauffman. She also helped work on Kansas City's World War I memorial and thinks someone needs to write a book about baseball players who were killed or injured in the Great War. She's not wrong about that.
Kate is a hardcore Royals fan who bought season tickets back when the Royals stunk. She's also a cancer survivor and Julie showed me a picture of Kate at the K last year, fully bald from chemo, nonetheless rooting the Royals on. So save me your "I'm a big, big fan" rebop.
Denise is a teacher, whose students are responsible for this video, which has gone viral in the past day or two and is supposed to be shown on the big board here at Kauffman tonight:
I was obviously partying with formidable people.
Josh tells me that the tailgating scene at Kauffman is not exactly a major thing. It happens but, let's face it, people weren't coming to Kauffman en masse until the playoffs started. He said the last month has been fun, though. It's unlikely that it'll ever be Milwaukee, but here's hoping the tradition, such as it is, grows.