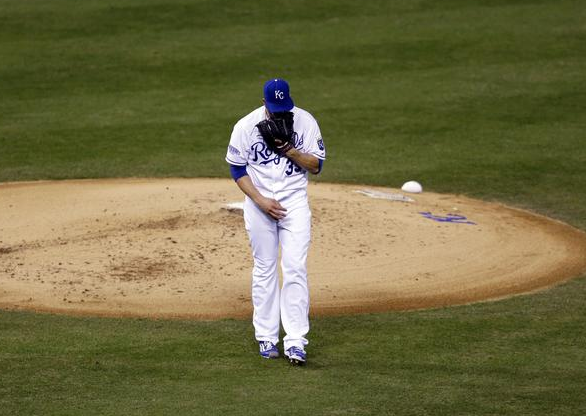 Last night's game was not exactly riveting. The personal highlight for me was making an astute observation about pitcher's names when Madison Bumgarner and Danny Duffy were on the mound. Other noted scribes helped add to that august discourse. It was the sort of thing that made me proud to be a member of the greater baseball community.
Of course the reason we had the time to tackle those weighty issues was because the game was more or less over moments after it began. The Giants jumped all over Royals starter James Shields, putting up three in the first and adding two more before Shields could even record an out in the fourth. That led to some more musing about names. Specifically, James Shields' nickname, "Big Game James."
Shields is said to have gotten that name in high school based on his admiration of the original "Big Game James," James Worthy. Even so, one can assume that he came up big often in high school or else he wouldn't have been drafted by the Rays. I don't think most of us heard that name, however, until the 2008 World Series when he had a nice start against the Phillies in Game 2. Since then, he has been called that just about every time he's been mentioned by national broadcasters as if it was the game his momma gave him.
Whatever the name's source, it has stuck with him. And because it has stuck, Shields' postseason struggles have led to no small amount of nickname mockery. Among the many, many variations I saw from fans last night were "Big Lame James" and "Three Frame James." Of course there were more. Which is understandable when you realize just how poorly Shields has pitched in the postseason. By the time he was done last night he had an ERA of 7.11 this postseason, with opponents batting .346 against him.That is tied for the 3rd worst ever by a pitcher with four or more starts in a single postseason. Not a huge sample, obviously, but not a good sample either. Overall he now has an ERA of 5.74 in 53 and a third postseason innings.
This is not the stuff of a guy with the nickname "Big Game," but far more importantly, this is not the stuff of a guy who is supposed to be the number one starter of a pennant winner and who is seeking a big multi-year deal on the free agent market. Shields is still a fine starter, but he would not be the first free agent pitcher to take a haircut in the market due to his perceived inability to get it done in big games. The Yankees and Red Sox need a pitcher, for example. Can you imagine what the fan and media reaction would be in those towns the first time Shields got beaten up in rivalry game?
At any rate, there has been some suggestion that Shields has shied away from the name "Big Game." And there is certainly some defensiveness on his behalf in some corners of the media, even if the broadcasters can't stop themselves from implying that Shields is, in fact, a big game pitcher. Indeed, after Shields left the game, Tom Verducci said, while interviewing Raul Ibanez, that "we're certainly not used to seeing James Shields pitch like this in the postseason." Except, no Tom, we most certainly are used to it by now. And while that undercuts a catchy nickname, it has undercut his team's chances to win its first World Championship in 29 years even more.