This came out before last night's instant-history game, but it's not like the 2014 playoffs just got exciting last night. They've been a thrill ride. Often an experience in head-smacking insanity — "why is he doing THAT NOW?" — but never, ever boring. Indeed, so far this may be the most exciting postseason in several years.
Don't tell that to Tom Van Riper of Forbes, though: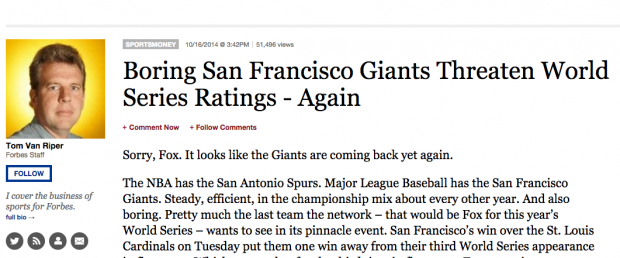 He uses his column to say that the matchups are all ho-hum, an assessment which is filtered entirely through TV ratings and, it would appear, the absence of east coast teams like the Yankees and Red Sox. Why on Earth would anyone want to watch these playoffs, he seems to say, given that large corporations aren't profiting off of them as much as they may otherwise do?
I get that he's a business writer first (his actual baseball opinions are probably left untouched, because oh my God are they terrible), but this is simply ridiculous. Ratings do matter to the companies which broadcast games and to the bottom line of the leagues. But to assert, in the middle of a crazy-good playoff season that this is all "boring" because that extremely small segment of the universe may be displeased is not just missing the forest for the trees, it's saying "hey, let's just not go to the country anyway. Trees are overrated. Let's go walk around downtown."