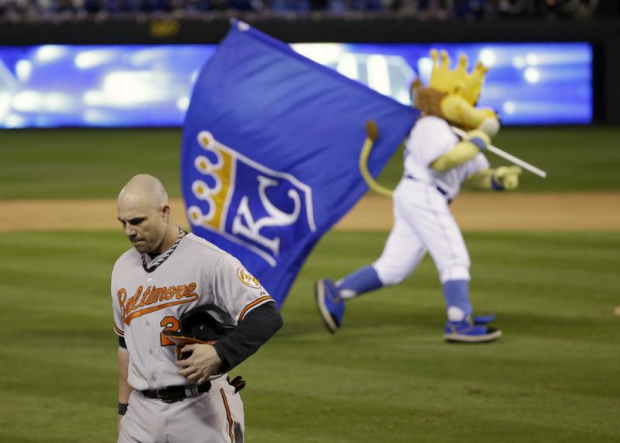 The Game: ALCS Game 4. Kansas City Royals lead Baltimore Orioles 3-0
The Time: 4:07 PM Eastern
The Place: Kauffman Stadium, Kansas City, Missouri
The Channel: TBS
The Starters: Miguel Gonzalez vs. Jason Vargas
The Upshot: Can anything stop the Royals at this point? Probably not in the series, as it would take an historic comeback by Baltimore to keep Kansas City from the World Series, and they've shown that, in the ALCS anyway, they have no second gear. The real question now is whether the Royals can sweep the entire playoffs, as they shoot for their eighth playoff win in eight tries this afternoon. Jason Vargas? He's hittable. The Royals lineup? You can pitch to them. But that's the same story that has held for a couple of weeks now and it hasn't mattered a bit. The Royals are gelling and the defense — maybe it's most important, though undersold trait — is all but immune from struggling. The real question is whether Buck Showalter can get some fight out of his men or if, alternatively, they know where this is going and subconsciously play in such a way as to put themselves out of their misery.
The Game: NLCS Game 4. San Francisco Giants lead St. Louis Cardinals 2-1
The Time: 8:07 PM Eastern
The Place: AT&T Park, San Francisco, California
The Channel: Fox Sports 1
The Starters: Shelby Miller vs. Ryan Vogelsong
The Upshot: Yesterday afternoon's game was just plain weird, ending with the Cardinals' worst reliever on the mound in extra innings of a playoff game and a guy who went 0 for 4 with a sac bunt as the hero in a mob scene. Going for the Giants is Ryan Vogelsong, who is 3-0 with a 1.19 ERA in his last five playoff outings. The Cardinals have handled him in the regular season, however, and they'll need to do so again in order to find themselves with their backs against the wall. Shelby Miller, who stood to be the loser in Game 4 of the ALDS before Matt Adams' homer off Clayton Kershaw bailed him out, takes the hill for the Cards. Once again, one assumes, Yadier Molina won't play.