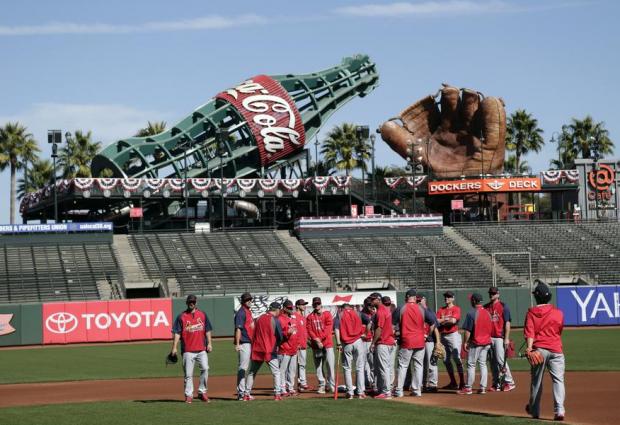 The Game: St. Louis Cardinals vs. San Francisco Giants, National League Championship Series Game 3
The Time: 4:07 PM Eastern
The Place: AT&T Park, San Francisco, California
The Channel: Fox Sports 1
The Starters: John Lackey vs. Tim Hudson
The Upshot: Tim Hudson hasn't pitched in a series beyond the Division Series in 16 years, but he goes today. Not going today in all likelihood: Yadier Molina, who suffered a strained oblique on Sunday night. He says, however, he feels better than he thought he would, but it'd be really surprising to see him in the game. Figure A.J. Pierzynski will get the start behind the plate for the Cardinals. The Giants don't run that much so missing Molina's arm could be a problem, but Molina's pitch-framing abilities could be missed by starter John Lackey.
The Game: Baltimore Orioles vs. Kansas City Royals, American League Championship Series Game 3
The Time: 8:07 PM Eastern
The Place: Kauffman Stadium, Kansas City, Missouri
The Channel: TBS
The Starters: Wei-Yin Chen vs. Jeremy Guthrie
The Upshot: A day after the rainout, the Orioles and Royals look to do it again. Nothing different here than we thought it'd be yesterday other than the bullpen arms are a day fresher. Game 4 is where the starting pitching matchups be affected by the rain, but we'll talk about that tomorrow. As for tonight: one sobering stat still holds for Baltimore: in the 29 years since the League Championship Series was switched to a best of seven, no team that has dropped the first two games at home has come back to win the series. That has happened 11 times in the past. Expect Wei-Yin Chen and Jeremy Guthrie to have some rust, as Chen has not pitched in 11 days and Guthrie hasn't gone since September 26.