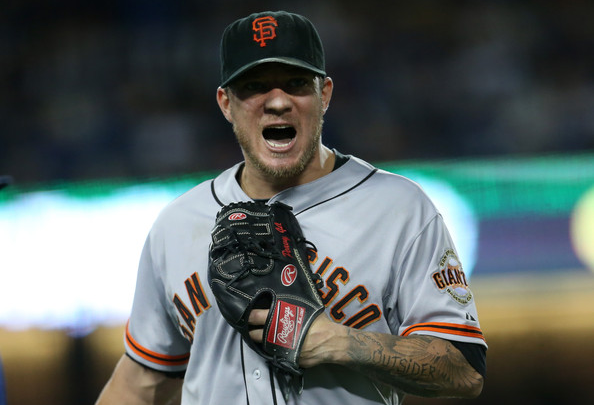 It's a travel day on the American League side of things, so all of the focus will be on Game 2 of the National League Championship Series on Sunday night in St. Louis. Let's preview the action …
The Game: San Francisco Giants vs. St. Louis Cardinals, National League Championship Series Game 2
The Time: 8:00 PM Eastern
The Place: Busch Stadium, St. Louis, Missouri
The Channel: FOX Sports 1
The Starters: Jake Peavy vs. Lance Lynn
The Upshot: The Cardinals were dominated by Madison Bumgarner in Game 1 on Saturday night and will need to generate some offense against Peavy to even things up in this best-of-seven NLCS before the series shifts to San Francisco. Peavy was fantastic down the stretch for the Giants in the regular season and he tossed 5 2/3 scoreless innings in his one NLDS start against the Nationals. Can he keep it rolling? Lynn had two rough outings versus San Francisco in the 2012 NLCS, but he's a much more confident and effective pitcher now, coming off a breakout regular season (2.72 ERA, 181 strikeouts in 203 2/3 innings). Peavy and Lynn both pitch with a ton of visible emotion. Look for some good screaming in this one.