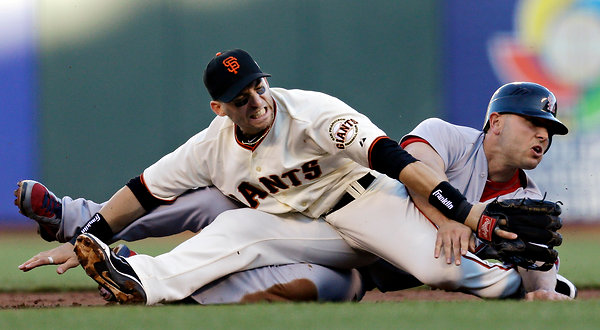 As a supporter of the underdog, I gotta tell ya: it's really refreshing to see plucky, underexposed upstarts like the St. Louis Cardinals and San Francisco Giants finally catch a break and make it to an National League Championship Series. We're now guaranteed to see either the Giants or the Cards in the World Series, and that's just the kind of feel-good story you like to see for once.
OK, enough of that. I'll try to get over my exhaustion at having these two teams advance, once again. I mean, sure, a fifth straight year of one of these two in the World Series is less than novel, but it's not like they cheated, lied or stole to get there. Baseball is a meritocracy most of the time and they earned it. Yes, it's outrageously fun to wind-up overly-defensive and self-serious Cardinals fans and to watch Giants fans pretend that their passionate support for the orange and black isn't directly tied to the team's winning percentage over the years, but their teams are still playing, ours are not and ultimately we need to shut up about it. Or, if we don' shut up, we need to appreciate that we're just whining.
More cosmically speaking, maybe we also need to realize the Cardinals and Giants advancing is a sign of hope. No, I mean it! Hope that we don't live in a cold and uncaring universe in which perversity is allowed to reign and there is no connection whatsoever between good decisions and good outcomes. Say what you want about the Giants and Cardinals, but there is no escaping that they are well-run teams led by competent people.
Bruce Bochy has held two managerial jobs and he held them both for a long damn time because (a) he produces and wins; and (b) never gives anyone a really good reason to question him. Dude knows what the hell he's doing and if you say you wouldn't hand your team over to him in a second you're either lying or crazy. Likewise, Brian Sabean may have provided saber-oriented and saber-sympathizing writers reason to squawk once upon a time, but we one-time squawkers were proven decidedly wrong about him and his methods. He has not only built winners, but he has fixed flawed teams on the fly — this year was a wonderful example of that — and no matter his missteps over the years, he is easily one of the best GMs in the game.
[ RELATED: Looking back at Don Mattingly's Game 4 decisions ]
In St. Louis, no, I wouldn't say Mike Matheny is the best manager around. Even Cardinals fans will admit that he drives them crazy sometimes. But for as much as he does that makes people scratch their heads, he merely sits at the front of a strong organization that most clubs would do well to emulate. I'll continue to roll my eyes at St. Louis fans invoking "The Cardinal Way" as if it were some evidence of moral superiority or a divine calling rather than a simple organizational philosophy, versions of which many other clubs have, but there is no mistaking that the Cardinals are a supremely well-run baseball team.
Against that backdrop, let's ask ourselves what is worse: seeing the same two teams battle once again or, on the other hand, seeing decision makers like Don Mattingly and Matt Williams rewarded?
I'm sure Mattingly and Williams are nice men. I'm sure the Dodgers and Nationals have their reasons for hiring them and/or retaining them and that soon, possibly as soon as next year, both of those teams could easily win a World Series. But if we're talking about what is annoying and irksome and what may make us root against someone in the playoffs, wouldn't it be more irksome for managers to pull the kind of stuff they pulled in the Division Series and be rewarded with advancement? Pushing the buttons the book tells them to push as if it were a game in July but, somehow, never pushing the big, red flashing button that says "USE YOUR BEST PLAYERS AS MUCH AS POSSIBLE"? That's the kind of stuff that should make you want to rip your eyes out of your sockets.
[ RELATED: Matt Williams' must-win strategy could use some work ]
There really is no excuse for benching Yasiel Puig in an elimination game. There's no excuse for using the pitchers Matt Williams used in live-or-die game last night. If Mattingly and Williams were somehow rewarded for that — or if Brad Ausmus were when the Tigers were still alive — it would be evidence that the universe doesn't care and that every solid and considered effort you make to get forward in this horrible series of sufferings that is life is for nought. That the smiling, uncaring and coasting imbecile to your left has every bit the chance you do to get ahead before we all die and that we may as well just throw our hands up in the air and wait for the sun to go supernova and wipe us all out rather than actually try.
Maybe that's still how things work. But for now, anyway, I choose to have a shred of hope. To believe that competence like that demonstrated by the Cardinals and Giants is, on occasion, rewarded. And that blinkered fecklessness like that displayed by the eliminated managers in this postseason is punished. That this, above all else, is what the 2014 postseason is teaching us.
And no, my little theory here has no idea how to account for this guy:
I'll get back to you when I can explain him.