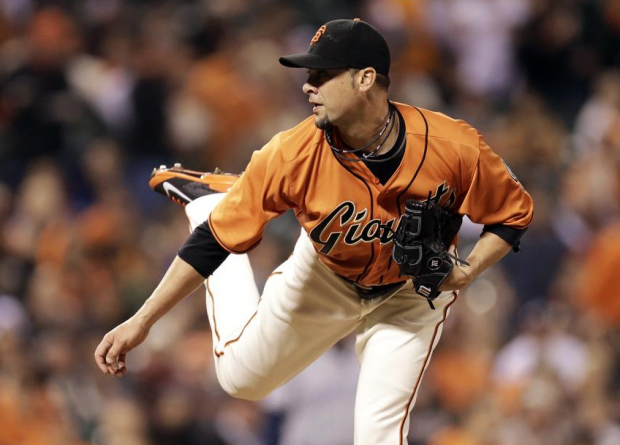 The Giants and Dodgers let games get away from them yesterday with bad decisions and bad bullpens, respectively. The Giants can still put Washington away today. The Cardinals, meanwhile, have the Dodgers' backs against the wall. But while both L.A. and the Nats face elimination, each have hope based on the starting pitching matchups. The Dodgers because they have Clayton Kershaw going. The Nats because the Giants have pretty much the polar opposite of Clayton Kershaw going. Both series could end tonight or everyone could live on to play another day. I feel like we're going to be playing another day in both cases.
The Game: Los Angeles Dodgers vs. St. Louis Cardinals, National League Division Series Game 4
The Time: 5:07 PM Eastern
The Place: Busch Stadium, St. Louis, Missouri
The Channel: Fox Sports 1
The Starters: Clayton Kershaw vs. Shelby Miller
The Upshot: The decision to pitch Clayton Kershaw on short rest seems like and even better one now than it did yesterday. Sure, he may not have his usual amount of stamina, but there is no better way for Don Mattingly to avoid his bullpen than to get a lot of innings from the best pitcher in baseball. Of course, last time out Kershaw tuckered out, abandoned his curve and melted down. Either way, the Dodgers would probably rather take their chances with his arm than with the guys down in that pen. For what it's worth, Kershaw is 2-0 with a 0.47 ERA in three career starts on three-days rest. The Cardinals, meanwhile, counter with Shelby Miller, who is working on two-weeks' rest. It's his first career playoff start.
The Game: Washington Nationals vs. San Francisco Giants, National League Division Series Game 4
The Time: 9:07 PM Eastern
The Place: AT&T Park, San Francisco, California
The Channel: Fox Sports 1
The Starters: Gio Gonzalez vs. Ryan Vogelsong
The Upshot: Runs continue to come at a premium this series, with the Nationals' breakthrough yesterday coming as a result of Madison Bumgarner's curious decision to throw to third rather than first on a Wilson Ramos bunt, leading to all the runs the Nats would eventually need. In Gonzalez, the Nats have a guy going who was pretty hot down the stretch, putting up a 4-1 record with a 2.36 ERA in his last seven starts of the year. Such is not the case for the shaky Ryan Vogelsong. One gets the sense that the Giants have ridden him too long based on his nice run in 2011-12. On paper anyway, he may be the worst starter we've seen in the postseason thus far. The Nats, particularly, have feasted on him. He's 1-2 with a 7.94 ERA in five career starts versus Washington. This year against the Nats he's allowed nine runs and 13 hits over 11 and a third innings across two outings.