Home plate umpire Dale Scott did not make any friends on the Dodgers last night, calling what they thought to be an extremely generous strike zone when L.A. batters were at the plate. After the game lots of Dodgers players and manager Don Mattingly noted the difficult strike zone in more or less diplomatic terms. Matt Kemp, however, was less than diplomatic. When he struck out in the ninth inning he got face-to-face with Scott. His comments after the game:
"Terrible. Terrible strike zone. I've never seen anything like it. That's disappointing because you've got guys out there battling. You know, this is two good teams going at it, and it's supposed to be the teams, not the umpire, and I just feel like the umpire took the bat out of our hands today. He had a very generous strike zone. It's hard to face good pitching when you've got a guy throwing a ball in the other batter's box, and it's called strikes."
He may get a fine for that. But does he have a point? Let's go to Dan Brooks' Strike Zone Map.
First, the called strikes against left handed hitters. This is from the umpire's perspective. Red dots were called strikes, green dots were called balls. Squares are for Cardinals hitters, triangles are for when Dodgers hitters were up. The solid black square is the regulation strike zone. The dashed square are what umpires typically call in reality: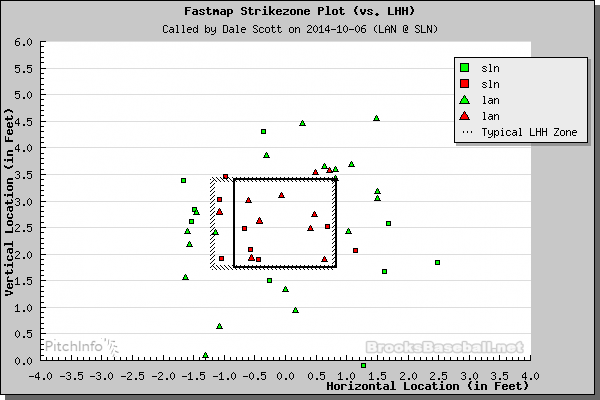 Lefties didn't have a terrible go of it. Yes, some outsides pitches called for strikes, but within typical umpire variation. And if anything Cardinals lefties had more calls go against them to the outside, possibly because A.J. Ellis was framing better than Yadier Molina, possibly because Dodgers pitchers were more consistently throwing out there.
Now for righties. Same deal: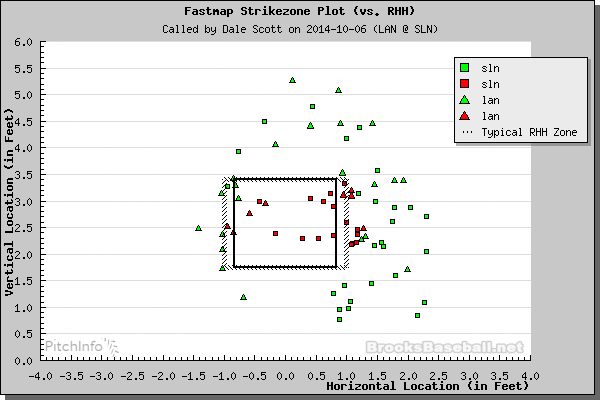 It's pretty clear that when righties were up — and Kemp is a righty — that pitchers were getting a LOT of calls on the outside. And unless my eyes are deceiving me, it looks like Cards righty batters had more bad calls go against them on the outside than Dodgers hitters.
But did Matt Kemp have a particularly bad time with Scott? Seems so. He struck out looking in the ninth prior to his argument. Check out strike two and strike three, ball two and strike three which are pitches 4 and 5, basically on top of each other: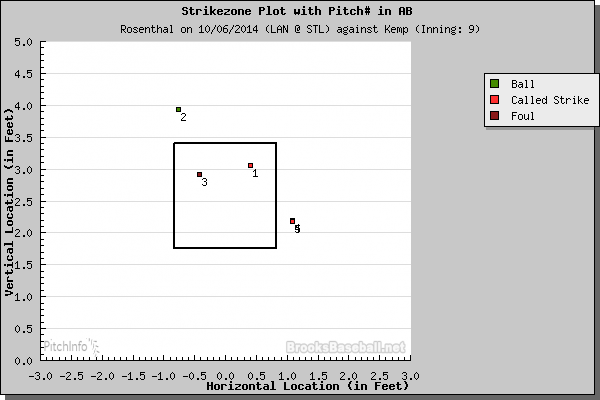 He certainly had a right to be mad about those particular pitches being called differently. Ultimately, however, no team has ever gotten anywhere complaining about the strike zone. The Dodgers need to suck it up and avoid elimination tonight. Getting better bullpen work would help them with that more than going after the men in blue.