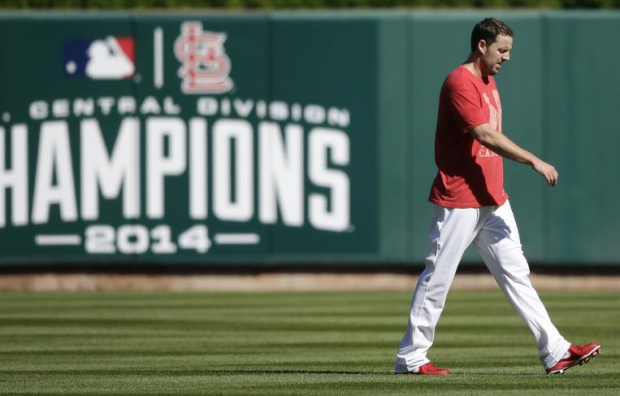 The ALDS featured two sweeps. The NL still has a chance for one, as the Giants look to put away the Nats. Meanwhile, our only shot at a five game — or even a four game series resumes in St. Louis.
The Game:Washington Nationals vs. San Francisco Giants, National League Division Series Game 3
The Time: 5:07 PM Eastern
The Place: AT&T Park, San Francisco, California
The Channel: MLB Network
The Starters: Doug Fister vs. Madison Bumgarner
The Upshot: After Saturday evening's marathon, both managers will want their starters to go deep into this one. And both managers have the starter to do it, too. Madison Bumgarner dominated the Pirates in the Wild Card Game and his presence puts the Giants in an excellent position to sweep. The last time Doug Fister faced the Giants in the postseason it was a tough-luck loss in a low-scoring Game 2 of the 2012 World Series. This should all be familiar to him then, as the combined score for the entire series so far is a mere 5-3 in favor of San Francisco.
The Game: Los Angeles Dodgers vs. St. Louis Cardinals, National League Division Series Game 3
The Time: 9:07 PM Eastern
The Place: Busch Stadium, St. Louis, Missouri
The Channel: Fox Sports 1
The Starters: Hyun-Jin Ryu vs. John Lackey
The Upshot: Here's a deep thought: yesterday John Lackey said of his upcoming playoff start "I want to pitch well this time of year, but things I've done in the past aren't going to help me tomorrow." John Lackey won Game 6 of the 2013 World Series and Game 7 of the 2002 World Series among his 19 playoff appearances. If John Lackey of all people isn't going to fall back on "playoff experience" when looking ahead to a pitching matchup, why should any of us? Going to that cliche is understandable, but it's also less-than-helpful. The bigger question is probably the health and strength of Ryu's left shoulder.