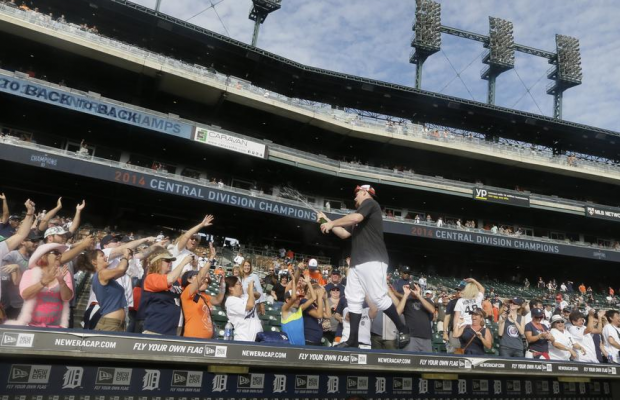 Tigers 3, Twins 0: Ian Kinsler drove in two, David Price turned in a fantastic performance and the bullpen didn't betray the Tigers in their division-clinching win. It's their fourth straight AL Central crown. While the story of this Tigers era will likely one day be told in such a way that had them owning the division, it's worth noting that they'd gone down to the wire fending off pesky teams each year.
Nationals 1, Marlins 0: Best part of this no hitter: the catch that saved it, probably. But also underrated is that the game was so close and Jordan Zimmermann almost had to twirl it in order to win. If Steven Souza doesn't make that grab there's a runner in scoring position in a one run game. Anyway, given that the Nats-Marlins game I attended this past weekend was a 15-7 affair played by bench guys and scrubs, I think it's safe to say I purchased tickets to the wrong contest.
Athletics 4, Rangers 0: The A's clinch the last AL playoff spot on the last day of the season which, given where they were in the middle of the season, is not exactly what they wanted. But now the slate is wiped clean and if they win one road game against the Royals it's all reset, right? Sonny Gray with the six-hit shutout. Against a Texas team that, being charitable, was not exactly filled with top-flight talent yesterday. That probably angered the Mariners to some degree. But that's often how it goes in September.
Royals 6, White Sox 4: Kansas City falls a game short of the AL Central title thanks to the Tigers' win. Nice year for the Royals of course, but it is rather amazing how many times the Tigers more or less invited the Royals to take the division from them with the Royals basically declining the offer. The final game for Paul Konerko. He didn't play the whole game and didn't get a hit, but he made a nice gesture in writing his family's name in the infield dirt at first base.
Indians 7, Rays 2  T.J. House beat Alex Cobb in what I assume was the first matchup in major league history between pitchers whose last names are also names of salads.Zach Walters and Carlos Santana each drove in two.  It was a coulda been season for Cleveland. Given the inconsistent play they had for so much of the year it's amazing they even made it to the last week of the season with a shot at the playoffs, but ultimately it had to be considered a disappointment.
Cubs 5, Brewers 2: Anthony Rizzo went 2 for 3 with a homer. This will be an interesting offseason for the Cubs, who are likely to bid on a starter in free agency. And, if things go just right, could be an interesting and possibly competitive team next season.
Braves 2, Phillies 1: The end mercifully comes for both teams' dismal 2014 seasons. The Braves got both of their runs in the first and then went into hibernation mode. Cole Hamels pitched well and had one of the more deceivingly good years from a starter you're likely to see: 9-9 with a 2.46 ERA. Imagine what he would've done on a team with some offense.
Mets 8, Astros 3: Jose Altuve played after all — they were going to hold him out to protect his lead over Victor Martinez for the batting title before thinking better of it — and he rapped two hits to actually raise that average and clinch the crown. Lucas Duda homered and drove in four. It was Bobby Abreu's last game. The Mets actually ended up tied with the Braves for second in the NL East.
Yankees 9, Red Sox 5: Jeter's last game in Yankee Stadium was more memorable, but he ended his last game overall in style too, hitting an RBI single in his final plate appearance.
Reds 4, Pirates 1: Pittsburgh's loss hands the Cardinals the division. Still a nice season for Pittsburgh. Johnny Cueto notched his 20th win and also singled in the go-ahead run.
Orioles 1, Blue Jays 0: Jonathan Schoop homered and six O's pitchers combine to shut out Toronto. They now face the Tigers in the ALDS.
Cardinals 1, Diamondbacks 0: St. Louis tossed a bullpen committee at Arizona given that they clinched the division before the game started with the Pirates' loss. Given the foregone conclusion of the season and what had to have been an insanely strong desire by the Dbacks players to get the heck home after a nightmare year, this was a game played at quarter speed. If that.
Dodgers 10, Rockies 5: If you believe in that whole "peak at the right time" thing (I don't, but whatever) than the Dodgers are peaking at the right time. Sixteen hits for the boys in blue, led by Adrian Gonzalez's three-run homer and Matt Kemp's two-run blast.
Giants 9, Padres 3: Homers from Buster Posey and Adam Duvall. A post-game speech from Hunter Pence to the fans. This one had 100% fewer F-bombs in it, though, so that was good.
Mariners 4, Angels 1: The A's win ended the M's season just shy of the prize. On the one hand, congrats to them for such a surprisingly competitive year. On the other, man, they skidded late and had all kinds of chances to take control in the wild card race but just didn't. That's gotta be an especially weird king of stinging feeling.
Also an especially weird feeling: the last And That Happened of the year. For reasons I've said before and that I'll likely put again in a post this week, the end of the regular season is always sad for me. The playoffs are what they are and they will consume all of the oxygen for the next month, but really, what I love about baseball is the day-to-day of the regular season and there's something missing in October with that comforting, lower-level intensity absent. Having the space and time to chronicle the unimportant along with the moderately important things of the 162-game flow is why I like writing ATH, and that's gone now. It always makes me feel a bit of a loss. Oh well.
Thanks for reading each morning, everyone. This feature will see you again in April.