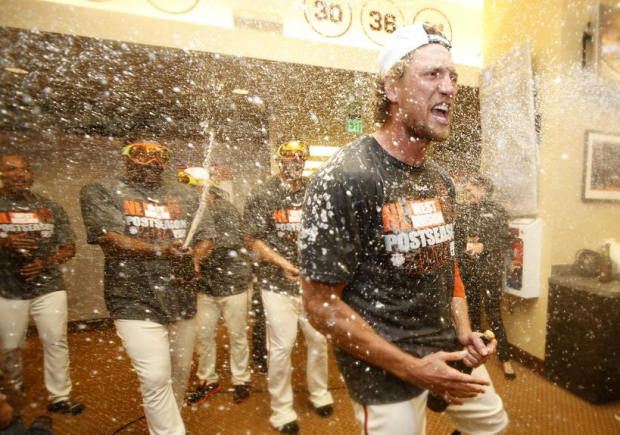 Hunter Pence and the Giants celebrated clinching a playoff bid. While they had already technically done it earlier in the day with Milwaukee's loss, there was still champagne and exuberance and all of that. And it's hard to blame them. The Giants had a crazy up and down and back up again year. And it's a veteran team with lots of playoff and World Series experience, so they know exactly what they would've missed had they not gotten back up late in the season. The earned their joy.
After the game, during the celebration, Hunter Pence — who I am pretty sure led glorious suicide missions in eight different wars in eight different past lives — gave a speech to Giants players. He did it in front of the media and God and everyone. And it was not rated-PG:
Our goal at the beginning of this [EFFING] season was to go to the [EFFING] World Series. And guess what boys, we're going to the [EFFING] dance! You know what? We've had [MOTHEREFFERS] out all the time. All year long we've had [EFFING] big injuries. We've had [EFFING] all sorts of [POOP]. Ups, downs, but we're [EFFING] here. We're [EFFING] going to the World Series!
Our friends at CSNBayArea.com aired it live — see it below, with appropriate bleeps — because TV is wonderful and immediate and, really, it was late and if you believe what everyone says about baseball losing touch with the younger generation all the kids were asleep and couldn't watch it anyway, so no biggie.
Hunter Pence offered an apology when he was being interviewed later, but he doesn't need to apologize for anything. So much baseball conversation is guarded and scripted and it's nice to see some real emotion from ballplayers once in a while. And I like the reminder that, even if they let in all the cameras and reporters after games, the clubhouse is the one place where ballplayers can be themselves.