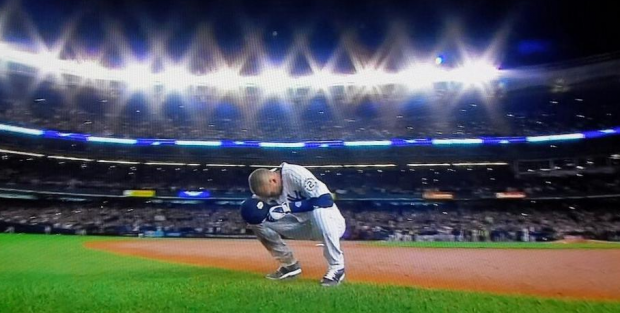 Yankees 6, Orioles 5:  For everything that was and will be said about this game — for all of the stuff about storybook endings and rising to the occasion and everything else — my biggest takeaway from Derek Jeter's heroics was the replay in which they showed his dad reacting to the walkoff hit.
The man watched his son kick ass for 40 years. And on the occasion of the last big hit his son will ever have, he reacted as if it was his first. He jumped out of his seat with a big smile on his face and whooped it up. It was just wonderful
It spoke to me more than anything else anyone has said about Derek Jeter these past few weeks has spoke to me. It explained more about the guy than any of the people reaching beyond their grasp to try to explain the guy have managed. People have tried to figure out why Jeter is who he is and why he has been what he has been these past 20 years. It's a thing we'll never know for sure because Jeter doesn't, to his credit, open up like a book to everyone. But if we had to guess, I'd say the answer to it is somewhere in his dad's reaction. Some bit of grounding and normalcy and good damn sense that a great many star athletes don't have surrounding them from the youngest of ages because they're star athletes and, in this day and age anyway, they're treated differently.
Derek Jeter's dad looked like a guy cheering on his son's first goal in kindergarten soccer. And in that there was something absolutely beautiful.
Red Sox 11, Rays 1: Rusney Castillo and Christian Vazquez each hit their first ever big league homers. Vazquez had four hits and drove in three. Allen Webster had a solid start. The Sox' season ends with a visit from the Yankees. Jeter will likely DH a bit during the series, but that's all. What a weird, ignominious ending for both of these teams.
Pirates 10, Braves 1: The Pirates trounce the Braves, who could almost literally be seen checking their October vacation reservations on their smart phones during the game. Pittsburgh is one game behind the Cards for the Central with three games to go. The scoreboard watching between the two of those teams will be about the most meaningful baseball played this entire weekend.
Tigers 4, Twins 2: Homers from Miguel Cabrera and Victor Martinez and a win from Max Scherzer despite not having his best stuff. Best sign for the Tigers: three innings of bullpen work from three pitchers. Nine batters faced, nine batters retired. The Tigers maintain their two-game lead with three to play. Seems pretty safe as long as they don't just totally woof away the weekend.
Mets 7, Nationals 4; Nationals 3, Mets 0: The split. In the first game, Matt den Dekker singled home the go-ahead run off Tyler Clippard in the eighth. Curtis Granderson had three hits in the Mets' 15-hit attack. In the nightcap, Gio Gonzalez allowed one hit in seven innings while striking out 12. Not a lot of offensive fireworks here, as the Nats' three runs scored on a bases-loaded walk, a bases-loaded hit-by-pitch and a fielder's choice. The Nats play another doubleheader today, this time against the Marlins. I'll be flying to Washington this afternoon to meet up with a good friend and she and I are going to take in the nightcap. I will not wear my Braves gear to the game out of respect, but nor will I do my usual When-in-Rome thing and buy Nats gear because, man, a dude has to have standards. I think I'll wear my Columbus Clippers cap, to be honest. And root like hell for the Marlins, because I am nothing if not a man animated by spite.
Marlins 6, Phillies 4: The Marlins win ensures that the Phillies will finish in last place for the first time in 14 years. Good effort, fellas. They now go on to play the Braves who may actually be a bigger disappointment than the last place Phillies. I'd say this is the World Series for both of these teams, but they're both so terrible that it's more like a lame spring training game on March 25th when everyone is just tired of the routine and they all want to break camp,
Mariners 7, Blue Jays 5: Two homers for Logan Morrison as the Mariners stay alive, albeit in critical condition. The A's lost, so Seattle remains two back with three to play. Seattle has three against the Angels. The A's have three against the Rangers.
Rangers 2, Athletics 1: Of course, the Rangers beat them here, courtesy of a walkoff homer from Adrian Beltre. They stunk all year, but in the second half of September, the Rangers have come alive. They stand ready to spoil the A's season just like the A's have spoiled the Rangers' past couple of years. If they do it, boy howdy, that'd be something.
Reds 5, Brewers 3: Speaking of spoiled, the Reds did that to the Brewers, officially eliminating them from playoff contention. Jay Bruce went 3 for 4. Brandon Phillips homered. Yovani Gallardo gave up ten hits in five innings. And like that — poof — it was gone. Quick — someone ask Jonathan Lucroy if he still thinks the Brewers are better than the Cardinals.
Royals 6, White Sox 3: Three runs across the eighth and ninth innings for the rallying Royals. Eric Hosmer was 3 for 5 with a couple driven in. James Shields gets the no-decision and the Kansas City pen does its usual three scoreless innings thing.
Giants 9, Padres 8: The Padres made it interesting, scoring five in the seventh to take the lead, but the Giants roared back with three in the bottom of the inning to seal it. Either way, the Giants clinched the playoffs yesterday with Milwaukee's loss, so it was going to be champagne, win or lose for San Francisco.